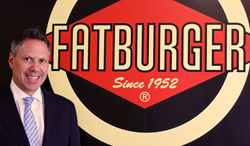 Beverly Hills, CA (PRWEB) April 02, 2014
Mr. Andrew Wiederhorn, CEO of Fatburger and its co-branded partner restaurant Buffalo's Café, announced today the unveiling of his public blog, designed to share his unique insights on business, restaurants and other topics.
After buying Fatburger in 2003, Mr. Wiederhorn, 48, became the CEO in 2006, and successfully guided the 101-outlet chain (need to verify the number at the time with Andy) out of bankruptcy and into a positive growth period that saw more than 30 new restaurants opening world-wide.
"People seem to be interested in the Fatburger turn-around and some of my related stories from the trenches," stated Mr. Wiederhorn. "I frequently get tapped to discuss topical issues and how they affect the business community, so I felt it made sense to bring some of my insights to the public, and in particular restaurant entrepreneurs and franchise owners."
The new blog also launches with a suite of social media accounts for Mr. Wiederhorn; all designed to make his business expertise more available to the restaurant industry and franchise owners in particular. Fatburger franchises are up dramatically, and interest in the company has spiked on news of the co-branded Buffalo's Cafe entering the picture. Co-branded franchise owners are reporting that the dual restaurants are generating profits 25-30 percent higher than a stand-alone Fatburger, with only minimal re-tooling and equipment purchases.
ASTRALCOM LLC, a full service agency, was tapped to create the new blog content platform and to create a system that allows that content to easily flow through all of the social channels that Mr. Wiederhorn is active in.
"Mr. Wiederhorn's business expertise is a valuable commodity. This social-first strategy delivers an engaging experience that inspires people to talk about, post and otherwise interact and share what Mr. Wiederhorn has learned," explained Richard Bergér, VP of E-Business at ASTRALCOM. "We simply aimed to make it more accessible to an audience who clearly values his experience and insights in the industry," he added.
To learn more about what Andrew Wiederhorn is up to and to connect with and follow him on Facebook, Twitter and Google+, be sure to visit his new site at http://www.AndrewWiederhorn.com.
About Fatburger
An All-American, Hollywood favorite, Fatburger is a fast casual restaurant serving big, juicy, tasty burgers, crafted specifically to each customer's liking. With a legacy more than 60 years old, Fatburger's extraordinary quality and taste inspire fierce loyalty amongst its fan base, which includes a number of A-list celebrities and athletes. Featuring a contemporary design and ambience, Fatburger offers an unparalleled dining experience, demonstrating the same dedication to serving gourmet, homemade, custom-built burgers as it has since 1952 – The Last Great Hamburger Stand™.