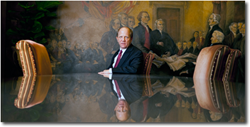 St. Louis, MO (PRWEB) December 18, 2014
Testosterone lawsuits, which have been consolidated as a multidistrict litigation, are progressing in U.S. District Court in Northern Illinois, according to attorneys handling Androgel testosterone lawsuit claims. The topic of a recent Case Management Conference on December 5, 2014 was the coordination of the hundreds of testosterone lawsuits underway around the country, according to the Case Management Conference Agenda, an official court document. Both sides presented a coordination proposal, and a number of important topics were raised, according to court documents. Androgel testosterone attorneys at the Onder Law Firm provide weekly testosterone lawsuit news updates and no-obligation case review at the Androgel Testosterone Lawsuit Center.
The consolidation of testosterone lawsuits may be considered more complex than other multidistrict litigation, based on the topics addressed in the Dec. 5 Case Management Conference. Over 620 cases have been filed as part of the consolidated litigation, in courts throughout the United States, according to court documents accessed on December 16, 2014. Furthermore, the number of defendants is significant, including more than a dozen pharmaceutical companies based worldwide which include AbbVie, Pfizer, Auxilium, Eli Lilly, and others, according to the Member Case list, an official court document.
One aspect of the testosterone litigation that has been debated in recent Case Management Conferences, according to court documents, is the challenging nature of coordinating discovery with varying timelines already in place in courts around the country, according to court documents. Cases against specific defendants are being filed primarily in the state where the company is based; for example, "cases pending in state court in Pennsylvania involve predominantly Auxilium," according to court documents. A coordination of discovery may prove challenging due to the differing timing in various locations, according to court documents. For this reason, the plaintiffs' legal counsel advocates against a complete coordination of discovery. In general, the Plaintiffs' Executive Committee Order suggests a coordination where "feasible" but "does not attempt to synchronize discovery where no such synchronization is possible," according to court documents.
Another aspect of testosterone lawsuit litigation is that Androgel lawsuits are being prioritized, according to court documents. While claims have been filed for a range of different testosterone drugs, Androgel lawsuits for heart attack and stroke allegations will comprise the initial six bellweather trials, according to court documents.
Testosterone Lawsuit Claims
Of the 620 testosterone lawsuits filed already, plaintiffs say they have suffered severe health problems allegedly stemming from their use of testosterone replacement therapies, including heart attack, stroke, deep vein thrombosis, and pulmonary embolism, according to court documents. Persons who have filed Androgel lawsuits and claims related to other testosterone drugs blame allegedly false and misleading advertising for their having taken a dangerous drug without knowledge of the risks involved, according to court documents.
Attorneys providing national legal representation for men and the family members of men who have experienced heart attack, stroke, or another serious or life threatening health problems that maybe be linked to their use of testosterone replacement drugs believe such persons may be entitled to real compensation by filing a testosterone lawsuit. Nationally recognized as a leader in drug and product safety litigation against multi-billion dollar corporations, the Onder Law Firm has committed its significant resources to providing expert legal representation to men and the family members of men who believe they may have grounds to file an Androgel lawsuit. Men and the loved ones of men who meet this description may contact the firm for a no-cost, no-obligation consultation through the Androgel Testosterone Lawsuit Center.
The Onder Law Firm welcomes testosterone lawsuit inquiries from law firms in regards to handling them or working as co-counsel.
About The Onder Law Firm
Onder, Shelton, O'Leary & Peterson, LLC is a St. Louis based personal injury law firm handling serious injury and death claims across the country. Its mission is the pursuit of justice, no matter how complex the case or strenuous the effort. The pharmaceutical and medical device litigators at The Onder Law Firm have represented thousands of Americans in lawsuits against multinational conglomerates from products liability for manufacture of defective or dangerous products to deceptive advertising practices. Other firms throughout the nation often seek its experience and expertise on complex litigation. It is also a recognized leader in products liability cases such as window blind cord strangulation. The Onder Law Firm offers information from attorneys handling testosterone lawsuits at http://www.AndrogelTestosteroneLawsuitCenter.com.
*Testosterone Replacement Therapy Product Liability Litigation – MDL No. 2545, Northern District of Illinois.