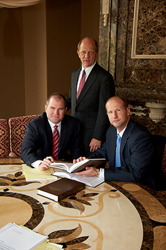 St. Louis, Missouri (PRWEB) April 29, 2014
Attorneys representing plaintiffs nationally in AndroGel lawsuits at The Onder Law Firm say the move to consolidate existing testosterone lawsuits into a multidistrict litigation (MDL) show AndroGel lawsuits against AbbVie are gaining traction. A request to consolidate testosterone cases was filed on March 28, 2014 before the Unites States Judicial Panel on Multidistrict Litigation. Attorneys representing plaintiffs in AndroGel lawsuits are requesting the 38 existing cases be transferred to the U.S. District Court, Northern District of Illinois for coordinated pretrial proceedings. (AndroGel Product Liability Litigation, MDL Docket No. 36)
Multidistrict litigation is a court process used to expedite the processing of similar cases. This method is particularly advantageous for pharmaceutical cases such as testosterone lawsuits that share common questions of fact related to complaint that a drug is defective or dangerous. Discovery is only conducted once, an advantage to the defendant. Plaintiffs find strength in numbers as their legal counsels join forces, yet are still assured of having their individual circumstances considered in a settlement.
In this case, the plaintiffs in the 38 AndroGel lawsuits that have already been filed allege, "that the AbbVie Defendants manufactured, marketed, distributed, supplied, promoted, and/or sold AndroGel, which is defective and unreasonably dangerous in that it causes heart attack, stroke, pulmonary embolism, deep vein thrombosis and thromboembolic events; that the AbbVie Defendants knew or should have known of the risk of injuries associated with AndroGel; that the AbbVie Defendants marketed, distributed, and/or sold AndroGel without adequate warnings concerning its risks; and that as a direct and proximate result of use of AndroGel, [plaintiffs] suffered serious injuries, physical and mental pain and suffering, as well as economic loss."
According to the FDA, AndroGel is one among many testosterone replacement therapy drugs which are federally approved to treat hypogonadism*, an endocrine disorder marked by a deficiency of natural serum testosterone. AndroGel is also widely prescribed to men seeking a boost in libido or energy, weight loss, or muscle growth, among other uses.
AndroGel and other testosterone replacement therapies are currently the subject of an FDA investigation, prompted by research showing the use of testosterone replacement therapy increases a man's risk of having a heart attack or stroke by two to three times the normal rate. (January 31, 2014 http://www.fda.gov/Safety/MedWatch/SafetyInformation/SafetyAlertsforHumanMedicalProducts/ucm384225.htm).
For more information, please visit the group's AndroGel Testosterone Lawsuit Center website. The website serves as a national public resource on testosterone heart attack and stroke risks, and offers information on choosing an AndroGel attorney and filing a testosterone lawsuit.
The Onder Law Firm's AndroGel attorneys are offering no-cost confidential case reviews for persons who suffered stroke or heart attack while taking testosterone. Individuals who fit this description may contact a lawyer through the firm's website to learn more about filing a testosterone lawsuit. The firm's AndroGel lawyers believe men who meet this description may be entitled to real compensation for the harm and damages they sustained while AbbVie's profits mounted. The Onder Law Firm welcomes AndroGel lawsuit or other testosterone case inquiries from law firms in regards to handling them or working as co-counsel.
About The Onder Law Firm
Onder, Shelton, O'Leary & Peterson, LLC is a St. Louis based personal injury law firm handling serious injury and death claims across the country. Its mission is the pursuit of justice, no matter how complex the case or strenuous the effort. The pharmaceutical and medical device litigators at The Onder Law Firm have represented thousands of Americans in lawsuits against multinational conglomerates from products liability for manufacture of defective or dangerous products to deceptive advertising practices. Other firms throughout the nation often seek its experience and expertise on complex litigation. It is also a recognized leader in products liability cases such as window blind cord strangulation. The Onder Law Firm offers information from AndroGel attorneys at http://www.androgeltestosteronelawsuitcenter.com.
*http://www.fda.gov/Drugs/DrugSafety/DrugSafetyNewsletter/ucm189806.htm