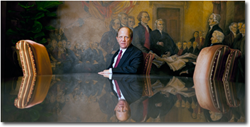 Men who suffered from a heart attack or stroke while using Androgel testosterone may have grounds to file an Androgel lawsuit.
St. Louis, MO (PRWEB) August 30, 2014
Even as Androgel testosterone lawsuits are pending in U.S. District Court*, new testosterone therapies are being developed in response to a growing market. A new experimental testosterone replacement therapy drug allegedly rivals the effectiveness of Androgel, according to the company's producer, Repros Therapeutics, Inc. Attorneys handling Androgel lawsuits at The Onder Law Firm provide full Androgel lawsuit information and news at AndrogelTestosteroneLawsuitCenter.com.
Androxal, the new drug designed to treat hypogonadism, or low testosterone ("Low-T"), was compared to Androgel in two studies, according to an August 27, 2014 Reuter's article.** According to the studies, patients taking the new drug had a higher sperm concentration than those taking Androgel. Furthermore, more patients responded to the new drug than to Androgel or a placebo. According to the article, the FDA has deemed sperm concentration and response rate to be two indicators for testosterone treatment approval.
Androxal has not yet been approved for general use in the United States, but will reportedly be submitted to the FDA for approval late in 2014, according to Reuters. Other new experimental drugs similar to Androgel include Aveed and Natesto; whereas Androgel is a topical gel product, these new products would come in pill, injection, and nasal spray forms, the article states.
Initially, testosterone lawsuits were grouped together by product, meaning that everyone who had taken Androgel was grouped together. Now, Androgel lawsuits have joined forces with testosterone claims for other drugs as a Multi-District Litigation (MDL) in U.S. District Court in Northern Illinois. According to court documents as of August 25, 2014, 209 separate claims had been filed as a part of MDL No. 2545 – In Re: Testosterone Replacement Therapy Products Liability Litigation on behalf of men who suffered heart attack, stroke, or death while taking Androgel or another testosterone product.
Androgel and other testosterone products have been under increasing scrutiny by the FDA during 2014. Two separate Drug Safety Communications have been issued by federal regulators, warning of the potential for arterial*** and venous**** blood clots resulting from the treatment. Arterial blood clots have the potential to cause cardiac problems including heart attack and stroke. Venous blood clots can lead to deep vein thrombosis and pulmonary embolism. These are serious and potentially fatal medical conditions.
Known across the country for its work in drug and product safety litigation against enormous corporations, The Onder Law Firm has committed its significant resources to providing legal representation for persons wishing to file Androgel lawsuits. Men who suffered from a heart attack or stroke while using Androgel testosterone may have grounds to file an Androgel lawsuit. Individuals and family members of individuals who meet this description are entitled to a no-cost, no-obligation consultation through the firm's Androgel Testosterone Lawsuit Center website.
The Onder Law Firm welcomes Androgel lawsuit or other testosterone case inquiries from law firms in regards to handling them or working as co-counsel.
About The Onder Law Firm
Onder, Shelton, O'Leary & Peterson, LLC is a St. Louis based personal injury law firm handling serious injury and death claims across the country. Its mission is the pursuit of justice, no matter how complex the case or strenuous the effort. The pharmaceutical and medical device litigators at The Onder Law Firm have represented thousands of Americans in lawsuits against multinational conglomerates from products liability for manufacture of defective or dangerous products to deceptive advertising practices. Other firms throughout the nation often seek its experience and expertise on complex litigation. It is also a recognized leader in products liability cases such as window blind cord strangulation. The Onder Law Firm offers information from attorneys handling Androgel lawsuits at http://www.AndrogelTestosteroneLawsuitCenter.com.
*MDL No. 2545 – In Re: Testosterone Replacement Therapy Products Liability Litigation
**reuters.com/article/2014/08/28/us-repros-therapeut-study-idUSKBN0GS04B20140828
***fda.gov/safety/medwatch/safetyinformation/safetyalertsforhumanmedicalproducts/ucm384225.htm, Jan. 31, 2014
****fda.gov/drugs/drugsafety/ucm401746.htm, June 19, 2014