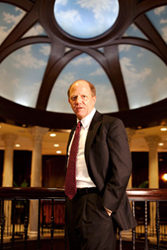 St. Louis, MO (PRWEB) February 25, 2014
The Onder Law Firm, nationally-recognized litigators who represent clients in major product liability lawsuits, announce the launch of their new AndroGel Testosterone Lawsuit Center website. The website serves as a national public resource on testosterone heart attack and stroke risks, and offers information on choosing a testosterone lawyer and filing an AndroGel lawsuit. AndroGel is one of several testosterone replacement therapy (TRT) products that is in widespread use among aging men in the United States. The FDA has issued a testosterone warning for heart attack and stroke risks, citing studies which say AndroGel and similar products increase the risk of cardiac incidents for certain demographics of men (fda.gov/Safety/MedWatch/SafetyInformation/SafetyAlertsforHumanMedicalProducts/ucm384225.htm). Indicated to treat hypogonadism, or an extreme deficiency of natural serum testosterone that can result in various medical problems, AndroGel is also widely prescribed to men seeking a boost in libido or energy, weight loss, or muscle growth, among other uses. Endocrinologists and hormone researchers warn that the risks associated with AndroGel outweigh the drug's potential benefits for most men.
The FDA's AndroGel warning, which was released on January 31, 2014, notified patients and clinicians of the risk of heart attack and stroke associated with taking testosterone drugs. In the days following the FDA testosterone warning, several AndroGel lawsuits were filed against AbbVie by men who suffered heart attack and stroke while taking testosterone (Aurecchia v. AbbVie Inc. (ABBV), 14-cv-00772; Benn v. AbbVie, 14-cv-00774; Gallagher v. AbbVie Inc., 14-cv-00776; Marino v. AbbVie Inc., 14-cv-00777 and Myers v. AbbVie Inc., 14-cv-00780; U.S. District Court, Northern District of Illinois). These testosterone lawsuits asserted that the plaintiffs were unaware of the cardiovascular risks associated with the drug: "Abbott and AbbVie 'deceived potential AndroGel users by relaying positive information through the press, including testimonials from retired professional athletes' and statistics suggesting a widespread need for the drugs, 'while downplaying known adverse and serious health risks,' according to the complaints," reported Bloomberg news. (bloomberg.com/news/2014-02-05/abbott-labs-sued-by-five-men-claiming-androgel-injuries.html)
The Onder Law Firm's AndroGel lawyers will provide a confidential case evaluation at no charge for persons who suffered stroke or heart attack while taking testosterone. Persons who match this description are eligible to receive a no-obligation consultation with one of the firm's attorneys to learn if they have grounds for an AndroGel lawsuit. The firm's AndroGel lawyers believe men who meet this description may be entitled to real compensation for the harm and damages they sustained while the makers and manufacturers of testosterone drugs profited from sales of the products. The Onder Law Firm welcomes AndroGel lawsuit or other testosterone case inquiries from law firms in regards to handling them or working as co-counsel.
About The Onder Law Firm
Onder, Shelton, O'Leary & Peterson, LLC is a St. Louis based personal injury law firm handling serious injury and death claims across the country. Its mission is the pursuit of justice, no matter how complex the case or strenuous the effort. The pharmaceutical and medical device litigators at The Onder Law Firm have represented thousands of Americans in lawsuits against multinational conglomerates from products liability for manufacture of defective or dangerous products to deceptive advertising practices. Other firms throughout the nation often seek its experience and expertise on complex litigation. It is also a recognized leader in products liability cases such as window blind cord strangulation. The Onder Law Firm offers information from AndroGel heart attack lawyers at http://www.androgeltestosteronelawsuitcenter.com.