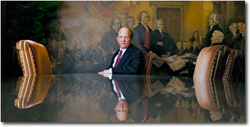 St. Louis, MO (PRWEB) December 03, 2014
According to attorneys handling testosterone lawsuit claims for heart attack and stroke allegations, multiple major medical providers are now warning patients of the risks of testosterone replacement therapies. The testosterone attorneys at the Onder Law Firm have updated their Androgel Testosterone Lawsuit Center website to provide information on testosterone heart attack warning statements from leading voices in the medical field, including the Mayo Clinic* and Harvard's Medical School Health Publications**.
The Mayo Clinic provides an in-depth article on testosterone therapy risks and benefits under the subheading of Healthy Lifestyle – Sexual Health. The article warns that drug company advertising has resulted in many aging men who are otherwise healthy seeking out testosterone therapy. The article contends that there is little to no evidence at this point to suggest that taking testosterone supplements is advantageous for men who do not suffer from the medical condition called hypogonadism. The Mayo Clinic warns there are multiple health risks with testosterone therapy such as heart attack, deep vein thrombosis, pulmonary embolism, sleep apnea, skin conditions, cancerous and noncancerous prostate growth, male breasts, testicle shrinkage and sperm reduction. The article warns that the aging process naturally results in a decline of natural testosterone, and states that "treating normal aging with testosterone is not currently advisable".
The Harvard Medical School's Men's Health Watch newsletter echoes Mayo's attitude that men who do not need testosterone therapy for medical reasons should avoid the drug.** One researcher , Dr. Pallais, was quoted in the article who was involved in the 2010 peer-reviewed Testosterone in Older Men Study saying, "I frequently discourage it, particularly if the man has borderline levels."** That study was stopped prematurely because of the high number of men suffering from heart problems who were taking testosterone for the research, according to the article. The author notes that medical experts are still awaiting a large scale study to confirm the degree of risk of heart attack from testosterone. Until then, Harvard Men's Health Watch recommends experimenting with natural approaches such as walking and snacking to boost energy levels.
Men who have suffered from heart attack or stroke they believe may be linked to testosterone treatment therapies such as Androgel, Testim, Androderm, and others, have filed lawsuits around the nation against the makers and manufacturers of testosterone replacement therapy drugs, according to court documents.*** Many of these cases have been consolidated as a multidistrict litigation (MDL).*** The testosterone lawsuit MDL is comprised of injury and death claims for plaintiffs taking any one of a long list of testosterone replacement therapies marketed by more than a dozen pharmaceutical companies, according to court documents. Defendants in the case include major pharmaceutical companies, such as AbbVie, Pfizer, Inc., Eli Lilly & Co., and others, according to court documents. According to official court documents, all the testosterone lawsuit claims included in the MDL "involve plaintiffs (or their survivors) who used one or more testosterone replacement therapies and contend that … use of the drugs caused … heart attack, stroke, deep vein thrombosis, and pulmonary embolism".
Attorneys providing national legal representation for men and the family members of men who have experienced heart attack, stroke, or another serious or life threatening health problem possibly linked to testosterone replacement drugs believe such persons may be entitled to real compensation by filing a testosterone lawsuit. Respected nationwide for its groundbreaking work in drug and product safety litigation against multi-billion dollar corporations, the Onder Law Firm's testosterone attorneys have committed their significant resources to providing expert legal representation to men and the family members of men who believe they may have grounds to file testosterone lawsuits. Individuals and family members of individuals who meet this description are entitled to a no-cost, no-obligation consultation through the firm's Androgel Testosterone Lawsuit Center website.
The Onder Law Firm welcomes testosterone lawsuit or other testosterone case inquiries from law firms in regards to handling them or working as co-counsel.
About The Onder Law Firm
Onder, Shelton, O'Leary & Peterson, LLC is a St. Louis based personal injury law firm handling serious injury and death claims across the country. Its mission is the pursuit of justice, no matter how complex the case or strenuous the effort. The pharmaceutical and medical device litigators at The Onder Law Firm have represented thousands of Americans in lawsuits against multinational conglomerates from products liability for manufacture of defective or dangerous products to deceptive advertising practices. Other firms throughout the nation often seek its experience and expertise on complex litigation. It is also a recognized leader in products liability cases such as window blind cord strangulation. The Onder Law Firm offers information from attorneys handling testosterone lawsuits at http://www.AndrogelTestosteroneLawsuitCenter.com.
*mayoclinic.org/healthy-living/sexual-health/in-depth/testosterone-therapy/art-20045728?pg=2, July 10, 2014
**health.harvard.edu/newsletters/Harvard_Mens_Health_Watch/2014/February/is-testosterone-therapy-safe-take-a-breath-before-you-take-the-plunge, February 2014 issue of Harvard Men's Health Watch
***In Re: Testosterone Replacement Product Liability Litigation - MDL No. 254