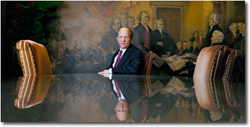 (PRWEB) December 10, 2014
A testosterone lawsuit was filed in U.S. District Court in Northern Illinois (Chicago) against manufacturers of testosterone replacement therapy drugs, according to attorneys at the Onder Law Firm. The testosterone lawsuit, Case No. 1:2014cv08857, was filed on behalf of insurance companies who allege that deceptive marketing methods employed by testosterone manufacturers resulted in insurance companies spending billions of dollars on testosterone drugs that were ineffective for certain indications and ultimately unsafe, according to court documents.
Attorneys providing testosterone lawsuit representation believe this case is representative of an expansion of claims facing drug makers. "This new case widens the scope of claims against testosterone manufacturers," said Jim Onder, of the Onder Law Firm. "Court documents show that initial testosterone lawsuit claims were filed by and on behalf of individuals alleging a connection between serious health problems such as heart attack and stroke and a testosterone drug such as Androgel. Androgel lawsuit claims filed by individuals aim to hold pharmaceutical companies accountable for personal damages caused to individual and families; this new testosterone lawsuit represents the interests of major insurance companies who believe they have sustained losses as a result of testosterone marketing practices."
Testosterone Lawsuit Multidistrict Litigation
Testosterone lawsuit claims have been consolidated as a multidistrict litigation (MDL) in the Northern District of Illinois, known as Testosterone Replacement Therapy Product Liability Litigation – MDL No. 2545. According to court documents, well over 200 testosterone lawsuit claims have been filed as a part of the MDL. The MDL includes claims related to a number of different testosterone drugs, including Androgel, sold by AbbVie, Inc., according to official court documents. Plaintiffs claim that serious health incidents including heart attack, stroke, deep vein thrombosis, and pulmonary embolism are linked to a testosterone drug they took. Furthermore, court documents reveal that individual filing Androgel lawsuit and other testosterone lawsuit claims say they were not adequately warned of the risks associated with the treatment, and instead were subjected to misleading advertising regarding the efficacy of the drug.
Attorneys providing national legal representation for men and the family members of men who have experienced heart attack, stroke, or another serious or life threatening health problem that maybe be linked to their use of testosterone replacement drugs believe such persons may be entitled to real compensation by filing a testosterone lawsuit. Known around the country as a leader in drug and product safety litigation against multi-billion dollar corporations, the Onder Law Firm has committed its significant resources to providing expert legal representation to men and the family members of men who believe they may have grounds to file an Androgel lawsuit. Men and the loved ones of men who meet this description may contact the firm for a no-cost, no-obligation consultation through the Androgel Testosterone Lawsuit Center.
The Onder Law Firm welcomes Androgel lawsuit or other testosterone case inquiries from law firms in regards to handling them or working as co-counsel.
About The Onder Law Firm
Onder, Shelton, O'Leary & Peterson, LLC is a St. Louis based personal injury law firm handling serious injury and death claims across the country. Its mission is the pursuit of justice, no matter how complex the case or strenuous the effort. The pharmaceutical and medical device litigators at The Onder Law Firm have represented thousands of Americans in lawsuits against multinational conglomerates from products liability for manufacture of defective or dangerous products to deceptive advertising practices. Other firms throughout the nation often seek its experience and expertise on complex litigation. It is also a recognized leader in products liability cases such as window blind cord strangulation. The Onder Law Firm offers information from attorneys handling testosterone lawsuits at http://www.AndrogelTestosteroneLawsuitCenter.com.