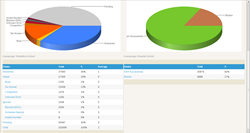 The Campaign form allows users to create a voice message campaign in three simple steps: Set a name for the campaign, select voice recording and select contact group from the dropdown and finally clicking Run campaign button to run campaign
Los Angeles, CA (PRWEB) March 31, 2014
ICT Innovations, a software development company that is devoted to offering top notch products for the communication, telemarketing and information industries, has just released support for Android based smart phones in their latest release of voice broadcasting product ICTBroadcast Version 3.4.
The android application for ICTBroadcast allows users to create voice recordings, contact groups and also create and run voice campaigns. Users of the ICTBroadcast fax broadcasting software should have a username and password to be identified as authenticated user. A URL to REST web services of ICTBroadcast is also required. Below are different features of the application explained briefly. These components include settings, campaigns, recordings and contacts.
The first thing users need to do after running the autodialer software application is to configure it. The settings tab allows users to set their username (Account Name), password (Secret Key) and set the location of the ICTBroadcast server (REST API URL). This is a onetime step, usually when using the application for the first time.
Recording allows people to create new voice recordings and upload them to the ICTBroadcast server. Users can also listen to their created voice recording before uploading. Once a user is sure that his/her recording is fine, then he/she can choose to upload that recording. Uploading requires the user to enter the name of the recording to be identified. In addition, the Contacts tab allows people to upload all the contacts of their android mobile phone as a new contact group at ICTBroadcast.
The Campaign form allows users to create a voice message campaign in three simple steps: Set a name for the campaign, select voice recording and select contact group from the dropdown and finally clicking Run campaign button to run campaign. At the moment, there is no option to monitor the statistics and summary of the campaign in android application.
This is the only one of many enhancements that has been made to the 3.4 version of the unified communications autodialer ICTBroadcast. Those who would like to learn more about the innovative software product including the android autodialer feature are welcome to visit the ICT Innovations website at any time; there, they can read more about the various features and improvements.
About ICT Innovations:
ICT Innovations is an open source based software development organization, focused to provide innovative solutions in the information and communication domains. ICT Innovations has more than 10 years of experience in open source telephony and renowned open source CTI tools like Asterisk and Freeswitch. For more information, please visit http://www.ictinnovations.com