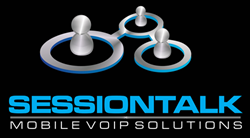 SessionTalk will continue to enhance their mobile softphone products thereby giving their customers the best possible VoIP calling experience.
Manchester, UK (PRWEB) June 23, 2014
SessionTalk, a UK-based developer of SIP Softphones and custom SIP solutions for mobile platforms, today released an update to their Android SIP Client. Version 2.3 adds Call Recording to an already impressive list of features:
★ Supports making SIP VoIP calls over 3G and WiFi
★ Receive calls whilst the app is in the background, switch between apps and stay on the call.
★ Multiple accounts - simultaneously registered. Receive calls on any registered account.
★ Set call background image to contact photo or custom image
★ Dial Plan
★ Dual Line
★ Swap between 2 active calls
★ Conference - Merge and Split
★ Attended and Unattended Transfer
★ TLS Encryption with optional certificate verification
★ SRTP secure calls
★ Bluetooth Support
★ Quick import of accounts from major VoIP providers
★ Excellent audio quality
★ G722, G711 ,GSM and iLBC codec support
★ G729 Annex A available as Premium Feature
★ Speakerphone, Mute and Hold
★ DTMF Support , RFC2833 and Inband
★ SIP Proxy support
★ Automatic service discovery using DNS SRV queries
★ STUN server support
★ Global IP
★ Ringtones
★ Contacts integration, add or edit contacts from within the app
★ Detailed Call history
★ Dial from Call History and Favorites
★ Voicemail Notifications
SessionTalk Softphone for Android, available on Google Play, comes with a set of preconfigured VoIP Provider accounts to allow easy setup and a full suite of enterprise features. The update means the Android version of SessionTalk Softphone now has the same feature set as the iOS version, SessionTalk Softphone for iPhone, both of which are available as Whitelabel products. The update also underscores the company's commitment to continually enhance their product range thereby giving their customers the best possible VoIP calling experience on mobile handsets.
SessionTalk will be also be adding video calling to both Android and iOS SIP Clients in the near future. In addition the company will be offering SIP VoIP SDKs for both iOS and Android later in the year. The SDK (Software Development Kit) products will be for software application developers.
About SessionTalk
SessionTalk Mobile VoIP Solutions is a privately owned software development company based in Manchester, United Kingdom and was established in November 2009. The company's founders have a track record of developing Enterprise VoIP and Social Networking applications for major telecommunications operators.