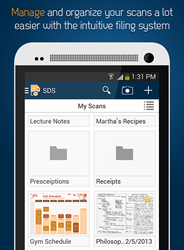 Great Tool! An excellent way to keep records without storing paperwork.
(PRWEB) January 20, 2014
With Smart Document Scanner, the daily hassle of scanning and managing documents comes to an end. Users would simply snap a shot of a file or a note for a high quality scan. The app then guides users to edit, enhance, file and save scans for easier retrieval.
Users can create PDFs of scans with just a single touch. With the help of Optical Character Recognition (OCR), they can actually extract and reprocess the text from images they scanned. To add more to the impressive features of the app, there is the 'sync' option, where all documents can be backed up to Google Drive and become accessible from anywhere at any time. This means users do not have to worry about where they kept their important notes. There's no chance of losing any essential information.
Scans can be exported in JPEG and PDF format. The app comes with a search feature, a multi­level filling system and a starred view for easier accessibility to scans. Smart Document Scanner scans multi-page documents in batch scan mode, and scans can be arranged in files by creating folders and sub-folders. Users can also add images to their scans and use preset enhancement modes to modify them. They can also manually control contrast, brightness and details to get the desired result.
Smart Document Scanner is an app that is useful for people of all ages, interests and professions. Students, teachers, shopkeepers, heads of departments and almost anyone can aid their workload of managing lists, notes, minutes of meetings, important files and documents with the help of this app. Tax calculations are made easy when users have scans of every receipt they have paid in months. All scans can be password protected for maximum security.
This app helps users organize their papers and documents in an absolute paper­ free environment: office, home, or anywhere. It's a must­have on every Android smartphone, as this is the need of today's technology-driven lifestyle. Why go for the same old paper filing method when it could be done the easy way? Smart Document Scanner has definitely made life easier. And the best part is that users can install it for free from Google Play.
https://play.google.com/store/apps/details?id=com.softxpert.sds&utm_source=PRWeb&utm_medium=PR&utm_campaig