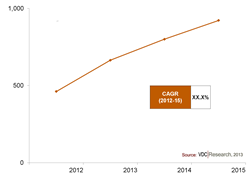 "Developer interest in Android is only getting stronger. Android is moving well beyond the phone market into a wide diversity of connected devices." - Chris Rommel, Vice President
Boston, MA (PRWEB) October 28, 2013
A new study by VDC Research on the adoption of Android for embedded and M2M applications shows rapidly increasing use of the platform across many verticals and applications, supported by a fast-growing community of system engineers and application developers. Detailed analysis of the global software development community supports a forecast of nearly one million developers working with Android for embedded and M2M applications by the end of 2015.
The research also shows that the global developer community has moved beyond a broad lack of familiarity with Android, and is now looking at its specific suitability for individual applications. The chief concern with Android remains security, though those concerns appear to be diminishing as the OS becomes increasingly secure and as the vendor ecosystem supporting Android continues to provide ever more robust security solutions. These developments are enabling the use of Android in a rapidly expanding set of applications that were once considered inappropriate for the OS.
According to Chris Rommel, Vice President at VDC, "Android is a massively disruptive technology for the embedded technology vendor community. While there have always been many OS's to support the wide diversity of embedded and M2M applications, never has a new OS gained so much traction so quickly."
VDC's research clearly identified the automotive and health care sectors as two of the most important markets for Android and the vendor community going forward. Interest in Android for select military applications is also rapidly on the rise.
The implications of the adoption of Android on the technology vendor landscape will be considerable. The risk to Microsoft is particularly great, as interest in Android appears to be very strong in both legacy markets where Microsoft has been dominant, and in emerging markets where future growth appears strongest. In contrast, ARM appears well positioned to benefit from Android's growth, with Intel chasing it aggressively. Rommel went on to say, "We see significant Android-driven disruption ahead, with big winners and big losers. For the world's largest technology vendors, it's time to adjust or suffer what could be very serious consequences."
About VDC Research
VDC Research is a leading technology market analyst firm, with a longstanding practice covering embedded and M2M technologies. Founded in 1971, the firm provides critical market intelligence to the world's leading technology vendors, who rely on its analysts for the data, ideas and insights they need to make impactful strategic decisions with confidence.