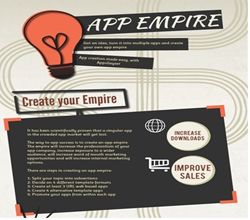 Setting down the foundations to Android app business success has given our app makers a path to follow so they get the full benefits of their hard work
(PRWEB) November 20, 2013
Beginning a new business is a nerve wrecking stage for all businesses; the idea is clear but the path to success if anything but straight forwards. The jagged path, mistakenly followed by many, has caused many potential appreneurs to fail in their quest to create successful businesses. AppsGeyser has produced a guideline to help straighten this path and aide more budding appreneurs to Android app business success.
The creation of the foundations of Android app business success are based upon three ideals; one: the appreneur is willing to sacrifice one month of their time to dedicate to their app project, two: the appreneur is a strong character that will follow the foundation steps and place their trust in the foundation blocks set by AppsGeyser and three: the appreneur is looking to make a fundamental change in their working life for monetary and lifestyle gains.
Zackary Jones recently began his app making career; "I was not initially considering becoming an appreneur, I wanted to make an app for fun, but since reviewing the foundations to android app business success I have decided that I would indeed like to make some work and lifestyle changes. I am 2 weeks into my first month and I am already feeling as though this decision is about to be the best one I have ever made".
"Our business is all about Android app creation, but there is more to just the app creation that makes an app maker a success," AppsGeyser Co-founder Vasily Salomatov, explained, "Setting down the foundations to Android app business success has given our app makers a path to follow so they get the full benefits of their hard work."
About AppsGeyser
AppsGeyser, launched in February 2011, is now the biggest Free Android App Builder on the market. AppsGeyser's popularity has risen by enabling users to create apps with ease for Android devices from any web content in under five minutes. AppsGeyser has seen more than 627,000 apps created on its platform. There have been more than 486 million downloads of its apps.