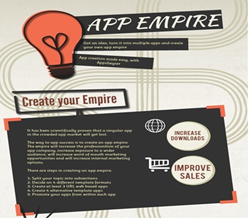 I am grateful to the team at Appsgeyser that have supported me this year in creating my app business
(PRWEB) January 01, 2015
AppsGeyser the online Android app tool platform was launched in 2011 with a tiny range of Android app templates. The idea behind AppsGeyser was to give potential app makers the tools required to make apps without having to outsource to expensive app making companies. AppsGeyser allows people, with little to no technical knowledge, to create apps in just a few simple steps.
2014 was a tremendously successful year for AppsGeyser. There were many major changes undertaken within the AppsGeyser program, changes which not only introduced many new template styles, but also the way in which AppsGeyser supports app making businesses. AppsGeyser turned their focus in 2014 upon guiding app makers in the distribution and marketing process.
2015 is going to be built upon the success 2014. Creating an Android app was dramatically simplified during 2014 seen through the number of apps achieving app success in the various Android app stores. Moving forwards in 2015, AppsGeyser is planning to continue to work closely with app makers and focus upon app business success and monetization. Monetization is the goal for AppsGeyser this year, to help app makers make a financially rewarding business.
"I am grateful to the team at Appsgeyser that have supported me this year in creating my app business ", stated Mohammed Ahmed, AppsGeyser app maker. "I am looking forward to continuing building apps and giving up my day job this year to focus purely upon my app business."
"We are extremely proud of the achievements that we achieved in 2014", AppsGeyser Co-founder Vasily Salomatov, said. "I am excited to start 2015 and looking forward to seeing new app businesses succeed."
About AppsGeyser
AppsGeyser, launched in February 2011, is now the biggest Free Android App Builder on the market. AppsGeyser's popularity has risen by enabling users to create apps with ease for Android devices from any web content in under five minutes. AppsGeyser has seen more than 1,357,000 apps created on its platform. There have been more than 957 million downloads of its apps.