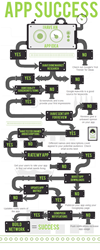 By following the five steps to Android app success an app maker will be able to focus their attention on each stage of their app development
Alexandria, VA (PRWEB) August 23, 2013
AppsGeyser has been one of the top Android App Builder Platforms for the past few years now and the only reason that the platform has been so successful is because the apps that have been created using the AppsGeyser tools have follows the five steps to Android app success.
Android app success is calculated by the number of downloads an app is receiving and also through the usage ratio, this means that an app is not only recognised and downloaded but is also being utilized by the app users. By following the five steps to Android app success an app maker will be able to focus their attention on each stage of their app development resulting in success.
The AppsGeyser blog recently published a guide to the five steps to app success, these steps include; App Store Optimization, better known as ASO, marketing, app planning, content and copyright and finally pricing your app and building a network of apps. Each of these stages can be looked into separately and worked upon accordingly.
A recently published app maker, Sandra Green told us, "I made a few apps while learning different techniques and found that none really succeeded in GooglePlay, it was only when I devoted time to each of the five success paths that I found my apps success suddenly improved."
"We have strived to find a simple plan to help app makers on the path app success," AppsGeyser Co-founder Vasily Salomatov, told us, " By setting out a success plan in five simple steps it makes the process easier to comprehend and follow step by step."
About AppsGeyser
AppsGeyser, launched in February 2011, is a fast growing Android app creation platform. AppsGeyser enables users to create apps for Android devices from any web content in under five minutes. AppsGeyser has seen more than 525,000 apps created on its platform. There have been more than 371 million downloads of its apps.