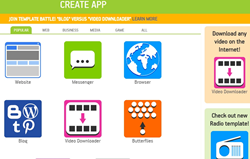 In 2016 I will be looking to increase my market share by creating apps to attract new leads
(PRWEB) December 17, 2015
2015 is coming to an end and what a year it has been for AppsGeyser Android app makers. 2015 saw a huge increase in the number of apps created using the specially designed online app templates and the number of app installations sky-rocketed. App makers took advantage of the simplicity of AppsGeyser's Android app templates to begin their app careers, and this is only the beginning. In 2016 AppsGeyser has plans to bring new opportunities for app makers around the globe to build their app businesses.
Small businesses are thriving worldwide due to the diversity mobile apps have brought, and consumers have become savvier and are looking for innovative companies to fulfil their needs. It is this combination that has driven AppsGeyser to prepare for a strong 2016. AppsGeyser is planning on increasing the range of app templates to ensure app makers can capture potential app users at every stage of their consumer journey.
Current templates that exist in 2015 have encouraged app makers to target audiences that are yet to commit to a service or sale, are in the process of purchase and after-sales. In 2016, the templates are going to be further defined to ensure that every aspect of the buyer's journey is covered. AppsGeyser app templates are cost-effective for businesses, easy to use and can be customized to suit individual needs.
"I created the first of my Android apps in 2015," new business owner Jamil Khan told us. "I have used the templates to target my existing audience. In 2016 I will be looking to increase my market share by creating apps to attract new leads. Thank you AppsGeyser, you've made my life so simple."
"The future of Android apps is bright," explains Vasily Salomatov, AppsGeyser CEO. "With the world becoming more reliant on mobile, there will continue to be more demand for Android apps. The AppsGeyser team are working hard to release new templates in 2016 to help app makers target every aspect of the buyers' journey."
About AppsGeyser
AppsGeyser, launched in February 2011, is now the biggest Free Android App Builder on the market. AppsGeyser's popularity has risen by enabling users to create apps with ease for Android devices from any web content in under five minutes. AppsGeyser has seen more than 2,372,000 apps created on its platform. There have been more than 1.236 billion installations of its apps.