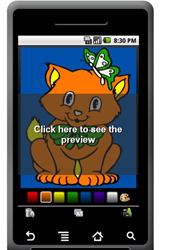 I was looking to grow my range of apps to help promote my brand to a different audience.
(PRWEB) February 20, 2014
Android app creation has become increasingly popular amongst the younger generation and more and more people are looking to begin their app making career. The younger generation of app makers do not wish to create content rich apps, but to create Android game apps. In recent weeks, AppsGeyser has released no fewer than seven new Android game apps templates to their app making tool platform.
Android game apps are more popular than ever, everywhere you go, you see people clicking away at their phones, and discussing games. AppsGeyser understood that there was a need to modify their app template styles to suit the needs of the upcoming app makers, and in consultation with a group of app makers, began the planning stage of creating the new game templates.
The game templates that are available range in style; from coloring apps that allow the creation of an app for the very young audience, to game apps that allow selecting personalized characters and weapons in a shooting style game. Each of the game templates allows the app maker to personalize the app with their own style, this offers the app maker the option of building a full range of apps and releasing a network of games all within a few clicks. The Android gaming industry is still in its infancy and the creation of games; such as the recently famed Flappy Bird, are in high demand.
"I have been creating apps with AppsGeyser's templates for a little while and was looking to grow my range of apps to help promote my brand to a different audience," Freddie Davis explained. "I was so excited to see the new Android game app templates."
"Android game apps are very popular and until now, we hadn't explored the gaming avenue with our templates," explained AppsGeyser Co-founder Vasily Salomatov, "We feel that the creation of gaming apps gives an app maker the opportunity to expand their brand awareness in a different way to content rich apps."
About AppsGeyser
AppsGeyser, launched in February 2011, is now the biggest Free Android App Builder on the market. AppsGeyser's popularity has risen by enabling users to create apps with ease for Android devices from any web content in under five minutes. AppsGeyser has seen more than 766,000 apps created on its platform. There have been more than 582 million downloads of its apps.