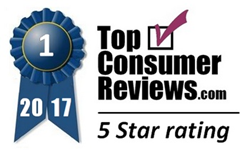 We are pleased to award Provacyl our top ranking among non-prescription Andropause products in 2017.
Overland Park, KS (PRWEB) September 21, 2017
TopConsumerReviews.com recently gave a best-in-class 5 star rating to Provacyl, a leader among supplements for Andropause.
For men who suffer from the frustrating and embarrassing symptoms of Andropause, Provacyl may provide welcome relief. Weight gain, decreased energy, thinning hair, sleep issues, and memory loss are just a few of the problems associated with the hormonal changes men experience as they get older. Fortunately, there are a number of products available for purchase that can help them get relief from their Andropause symptoms and enjoy life more fully.
"Provacyl helps encourage men's bodies to regulate their hormone levels safely and naturally," according to Brian Dolezal of TopConsumerReviews.com, LLC. "Created by Natural Health Sciences, a leading manufacturer of natural products since the 1990's, this Andropause formula uses ingredients such as GABA, L-Arginine, and Ginkgo Biloba to help manage hormone level decreases, including improvements in memory, mood, and energy levels. Many users were happy to report improvements in their symptoms in as soon as 30 days. Better yet, Provacyl comes with a 90-day full refund policy, so customers can try the product for nearly three months before determining if it works well for them. We are pleased to award Provacyl our top ranking among non-prescription Andropause products in 2017."
To find out more about Provacyl and other Andropause products, including reviews and comparison rankings, please visit the Andropause category of TopConsumerReviews.com at http://www.topconsumerreviews.com/andropause/.
About Provacyl
Provacyl is marketed by Leading Edge Health, a BBB-accredited business based in Victoria, BC, since 1997. This industry leader excels in providing anti-aging, skin care, and health products, created by medical professionals in 1999 and sold by more than 50,000 affiliate partners worldwide. They provide international and North American toll-free numbers with extended hours to provide for all customer needs.
About TopConsumerReviews.com
TopConsumerReviews.com, LLC is a leading provider of independent reviews and rankings of hundreds of consumer products and services. From Andropause to Exercise Bikes and Colon Cleansers, TopConsumerReviews.com delivers in-depth product evaluations in order to make purchasing decisions easier.