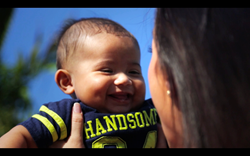 There's no doubt that this can aid in saving lives.
Miami, FL (PRWEB) March 18, 2014
One child dies every 10 days after being left behind in a hot car. Automotive designer Dennis Aneiros seeks to bring an end to these tragedies via a 30 day, $500,000 ANEIROS crowd funding campaign launched on IndieGoGo.
Shortly after being granted a full U.S. Patent for the ANEIROS system, Dennis received an encouraging letter from U.S. House of Congress Member, Mario Diaz-Balart. "Your invention would ensure infants and toddlers are not left unattended in a vehicle and therefore could potentially save lives," stated Balart. The Huffington Post mentioned the ANEIROS campaign as "Exciting indeed."
The ANEIROS system features a "smart" child car seat that alerts parents of a child mistakenly left behind in a vehicle. Hardwired into the car's electrical & alarm system, it can activate the vehicles honking, lights, alarm system, and even the air conditioning system to cool down a child who is overheating. The ANEIROS team also plans to develop direct smart phone connection for future models, which will allow the system to send mobile notifications to users smartphone.
With hopes of converting working prototype's into a full manufacturing run, Dennis and his team turn to crowd funding via IndieGoGo. IndieGoGo is the largest global crowd funding website, allowing visitors to provide financial contributions to creative projects they wish to help make reality. The ANEIROS crowd funding campaign is managed by the ASCEND Creatives Group.
The ASCEND team has 30 days in order to meet the $500,000 ANEIROS crowd funding campaign goal. The funding is required in order to complete the systems final engineering, tooling, and manufacturing.
Upon reaching the campaign goal, Dennis and his team plan to take the system to major car manufacturers, and eventually the U.S. Government. Dennis intends to initiate the establishment of new safety standards for children's vehicular seat technology. He claims the current standards and regulations are mediocre, at best.
" Today's cars come equipped with touch screen interfaces, GPS, and all of this amazing technology, yet nothing to aid in the situation if a child is left unattended in a vehicle. Nothing that can cool down the child if they are suffering from vehicular heat stroke. In today's technological age, this is absolutely unacceptable." stated Dennis.
You can help make the system a reality, as well as learn more information on the ANEIROS IndieGoGo campaign page.
About ANEIROS LLC.
ANIEROS LLC is dedicated to the innovation of safety & security enhancing devices. For more information on the ANERIOS system, its crowd funding campaign, or to request a media kit or interview, please visit http://aneirosllc.com