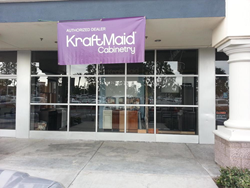 "We are so excited to open up our space to the kitchen and bath design community. We want our showroom to be their showroom. A hub of collaboration, providing the ultimate venue for creativity," said Alex Stevens CKD, President, Anew Kitchen and Bath.
Tustin, CA (PRWEB) April 30, 2014
Anew Kitchen & Bath Design Experience is excited to announce the opening of their new showroom, located at 2560 Bryan Ave., Suite B, in Tustin, CA.
In addition to housing Anew's corporate offices, the showroom features displays from manufacturers such as Kraftmaid Cabinetry, Dynasty/Omega Cabinetry, Merillat Cabinetry, Homecrest Cabinetry, Alloc Laminate Flooring, Anderson Hardwood Flooring, Dal Tile and Arizona Tile. Anew showcases two cabinetry vignettes conceived by local designers; a Kraftmaid display by Peggy Odita-Hodel and a Dynasty display by Val Mina. Both women are prominent designers in the Orange County area. The most unique feature of the showroom is the "Designer's Lounge" where interior designers and kitchen and bath designers can use 20/20 Design and TurboCad design software to create spectacular designs and drawings, as well as meet with clients to present their designs and samples.
The past year has seen many exciting changes for Anew, including the announcement of James Bailey as Partner, and the appointment of Rachel Hutchens as a Certified Kitchen Designer. They also recently launched their new website anewkitcheninc.com.