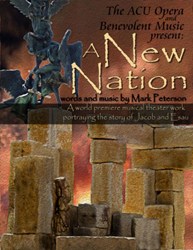 The show takes us on a journey of deceptions, seductions, and fiascoes that ultimately leads to the discovery, reconciliation—and the formation of a new nation.
Fort Worth, Texas (PRWEB) August 14, 2013
Benevolent Music Corporation announced today plans to present the world premiere and Dallas/Fort Worth debut of "A New Nation," a dramatic biblical tale and mesmerizing musical theater experience that brings to life the tumultuous story of Jacob and Esau in the Book of Genesis. With libretto and music by Mark Peterson, the exhilarating and inspiring musical drama unites the intensity of theatrical performance with the lyricism and spectacle of romantic opera.
"The show takes us on a journey of deceptions, seductions, and fiascoes that ultimately leads to the discovery, reconciliation—and the formation of a new nation based on the universal values of truth, justice, and patriotism," said Mark Peterson, artistic director of the Texas-based Benevolent Music Corporation. "These powerful messages will no doubt resonate with audiences today--and for generations."
Following two special performances during the Abilene Christian University Summit Convention in Abilene, Texas, the production will come to the W. E. Scott Theatre in the Fort Worth Community Arts Center at 1300 Gendy Street, Fort Worth, Texas 76107, for three performances: Fri., Sept. 20, and Sat., Sept. 21 at 8:00 p.m. and Sun., Sept. 22 at 4:00 p.m. Pre-concert lectures will be offered at 7:15 pm. before the 8:00 performances, and there will be a cast party after the matinee on Sept. 22.
One of the primary goals of Benevolent Music is to make opera accessible to more people by producing in English, using idioms popular in American musical theater, and by dramatizing familiar, spiritually uplifting stories. "A New Nation" extends the operatic romantic tradition of Puccini, Korngold, and Barber—and also brings one of the greatest conflicts in the Bible and in human history to the stage.
"It is amazing to me that I cannot recall a truly great opera based upon a biblical conflict," said Dr. Rita Abi Warde, vice-president of Benevolent Music Corporation. "'Nabucco' is a flawed early work of Verdi, and 'Moses und Aron' is an esoteric, atonal work of Schoenberg. Perhaps 'Samson and Delilah' has been the best; but 'A New Nation' surpasses it both in the moral complexity of its conflicts and the intensity of its music."
Directed by Dr. Rick Piersall, opera director at Abilene Christian University, and conducted by Dr. David Thye, director of the Fort Worth Symphony Chorus and conducting chair at Southwestern Baptist Theological Seminary,"A New Nation" stars tenor Samuel Cook as Jacob and baritone Daniel Lickteig as Esau. The original production also showcases the talents of Rick Piersall as Isaac, Julie Dieltz as Rebecca, Lynnette Chambers as Judith, Dee Donasco as Mahalath, and Gloria Lim as Rachel. Other members of the cast include Zachary Hess as Laban, Arielle Collier as Basemith, Nicole Popejoy as Leah, and Dean Willis as the Angel, as well as the Southwestern Baptist Theological Seminary Chorus, the ACU opera ensemble, and the Fort Worth Chamber Orchestra. Go to "A New Nation" to find the complete cast of characters, a scene-by-scene synopsis, audio samples, and thematic analyses. Visit our Facebook to learn more about our singers and production team – Facebook.com/benevolentmusic. Follow us on Twitter @MusicBenevolent, #ANewNation.
To purchase tickets for performances at the Scott Theatre in the Fort Worth Community Arts Center or to make a contribution, go to tickets and donations. Or call OvationTix at (866) 811–4111. Tickets are $40, $60 and $80--student, senior (62+) and group discounts are available. Student "rush" tickets offered same day of performance for $15—first come, first serve.
Fort Worth, Texas Performances:
The Scott Theatre in the Fort Worth Community Arts Center
1300 Gendy Street | Fort Worth, Texas 76107
Sept. 20, 2013 at 8:00 p.m.
Sept. 21, 2013 at 8:00 p.m.
Sept. 22, 2013 at 4:00 p.m.
For a complete list of performances, go to the calendar.
Pre-concert lectures begin at 7:15 p.m. for the 8:00 p.m. shows.
About Benevolent Music Corporation
Benevolent Music Corporation is a nonprofit 501 (c) (3) organization dedicated to producing music with moral themes. It does this in three ways: first, by promoting the traditional American values of honesty, integrity, independent thinking, hard work and justice in musical dramas such as "A New Nation." Secondly Benevolent Music trains singers to artistically to exude these values in Euterpe Ensemble productions, and thirdly, the organization presents interdenominational choral festivals centered around a specific moral themes. The aesthetic of benevolent music has been developed by BMC President Mark Peterson. It is based upon the beauty of epistemology and human emotion. In order to communicate effectively, musical form must imitate thinking in its clearest form; in order to inspire, musical expressiveness must imitate our emotions in their most spirited form.
Media Contact: For high-resolution, digital photographs suitable for print, to arrange an interview, appearance or for additional information, please contact Elaine Gantz Wright, benevolentmusiccorp(at)gmail(dot)com.