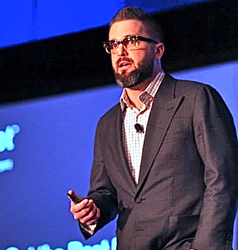 ANGEL | BESPOKE's client list is exceptional, with numerous celebrities, professional athletes, and Fortune 500 CEOs recognizing the unique qualities of the brand
New York, NY (PRWEB) February 23, 2015
ANGEL | BESPOKE, a leading national custom clothier and designer of luxury apparel based in New York City, has named Stephen Schweickart as the Chairman of its Board of Directors.
Schweickart, a shareholder and partner in the company, has served as a strategic business advisor to ANGEL | BESPOKE since its initial launch in 2013. Schweickart is currently the CEO of VScreen, the real estate industry's leading online video content provider, a company he founded in 2007. Schweickart will assist ANGEL | BESPOKE with his expertise and experience in corporate governance, strategic growth, marketing and business development.
"We are excited to have Stephen's strategic oversight and leadership on the ANGEL | BESPOKE Board," said Angel Ramos, President of ANGEL | BESPOKE. "With Stephen's experience and guidance, we expect to expand the ANGEL | BESPOKE brand, while consistently pushing boundaries in the fashion industry."
"I couldn't be more honored to be part of such a forward-thinking and fast-growth fashion label," said Schweickart. "ANGEL | BESPOKE's client list is already exceptional, with numerous celebrities, professional athletes, and Fortune 500 CEOs recognizing both the unique qualities of the brand and the vision of its founder, who was once named Esquire's Best Dressed Real Man in America. It is an absolute privilege to work with Angel and I'm excited about what's ahead for ANGEL | BESPOKE."
ANGEL | BESPOKE's Board of Directors plays a significant and fundamental role in establishing the longevity, sustainability and expansion of the label. For more information about ANGEL | BESPOKE, visit AngelBespoke.com.
About ANGEL | BESPOKE:
ANGEL | BESPOKE is a leading custom sartorial clothing brand, offering clients an individualized shopping experience under the direct guidance of fashion visionary Angel Ramos. Angel is renown for his effortless style in artisanal menswear, using the highest quality fabrics from Italy and New York. With a personalized approach that takes the guesswork out of dressing appropriately for business and causal events alike, ANGEL | BESPOKE assures a classically chic and elegantly attired appearance every time.