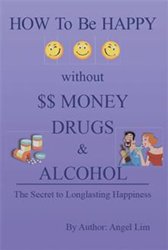 Los Angeles, Calif. (PRWEB) April 02, 2014
With the recent spate of rampage killings, murders, suicides, many deaths caused by drugs and alcohol, author Angel Lim offers to solve these problems by creating peace and happiness from the inside out. Her ten step principles are simple and yet have proven themselves to be effective in bringing happiness to her life. According to her, many often ask and wonder what makes her so happy and lets her laughs so easily and merrily. She decided to write "How to be Happy without Money, Drugs or Alcohol," which gives ten simple basic steps that will create a lifetime of happiness for her readers so long as they apply the stated principles in their lives. It is an "ultimate solution" which the author hopes to be much more effective than any drug or gun-control measure (even though that is necessary too).
The ten-step principles can help save lives, first by making people happy from the inside out, then with the ripple effects of joy, laughter and happiness, it becomes a natural cure for many illnesses, such as depression, anger and revenge. The author hopes this will help put an end to many social problems, such as murder, rampage killings, and especially suicides. She hopes that this book will help make this world a much happier place to live in.
One of the basic principles Lim acquired when she was young was her mom's upbringing. She made sure all her kids went to bed laughing and hence woke up laughing. She later learned from reading and chatting with some professors that her laughing and aerobics habit stimulated her body's nitrous oxide (the laugh chemical) production, which she realized will offer the real and ultimate solution for lifetime happiness in an alcohol and drug-free environment. When coupled with daily aerobic exercise that creates both nitric oxide and endorphins, her ten-step principles offers the ultimate and most effective solution to society's problems. It is the perfect antidote for bottled up anger, suppressed emotion and stifled depression which could all be factors to murders, killings and suicidal deaths.
The author has deliberately written a short and concise volume for readability and easy assimilation. When read thoroughly, her basic principles of happiness can be comprehended quickly and remembered easily so one can apply them on a daily basis. Her message is simple yet extremely effective and universal, like the famous line in Reader's Digest, "Laughter is the best medicine," and "A merry Heart doeth good like medicine. Resentment killeth the soul." In her own words, she describes the essence of the philosophy behind her book.
"Make laughing and exercise, a daily habit, a daily necessity, laugh as often as you can with your friends family, co workers even with people you don't know, anytime all the time. Be kind and generous which gives you inner peace, joy and happiness. Most important of all, forgive and forget, so you will not harbor ill feelings. It is like having worms eat an apple, it will eventually eat you alive. Look at things in the positive and humorous way… Live a happy daily life."
When her principles are applied on a daily basis, readers can almost be certain that they can reap the tremendous benefits of Lim's amazing program. The ripple effects of these principles as applied to daily lives, will bring so much joy and happiness that there is no room for anger, revenge or even suicides. This, she believes is the ultimate solution to many social problems.
For more information on this book, interested parties may log on to http://www.Xlibris.com or http://www.HowToBeHappywithoutMoney.com
About the Author
Born and raised in Singapore, Angel Lim is the youngest among seven siblings. She graduated from University of Singapore with a double major in Economics and Mathematics. Her curiosity about human behavior started when she was young, so she did a minor in Sociology. Lim grew up happily laughing since whe was very young, first with her siblings who often finds humour in everything, then at school, she often laughed easily on a daily basis with all the humor created by her classmates, siblings and even co workers of Xerox Singapore. As she was taking care of her mom in her last two years, learned from her mom that she always put all her kids laughing. After bringing up 7 kids, she quickly learned that when kids go to bed crying, they wake up crying and when kids go to bed laughing they woke up laughing. Lim later confirmed these principles by reading books on the power of the subconscious mind just before bedtime. In addition, she has further discovered many more principles that will contribute towards a lifetime of happiness. Out of these, she concluded ten that were the most effective. She decided to share these with the hope of bringing joy and happiness to the entire world. These secrets will let people become happy without money, drugs or alcohol. She hopes to do that someday and help pass on her joy and happiness to everyone around the world. Her primary motive is to help save this world from rampage killings, revenge and many suicidal deaths. She can be contacted at: AngelJBLim(at)gmail(dot)com
How to be Happy without Money, Drugs or Alcohol * by Angel Lim
The Secrets to a Lifetime of Happiness
Publication Date: September 24th 2013
Trade Paperback; $12.99; 105 pages; 978-1-4836-8597-7
Trade Hardback; $15.99; 105 pages; 978-1-4836-8598-4
eBook; $5.99; 978-1-4836-8599-1
To request a complimentary paperback review copy, contact the publisher at (888) 795-4274 x. 7879.
To purchase copies of the book for resale, please fax Xlibris at (812) 355-4079 or call (888) 795-4274 x. 7879.
For more information, contact Xlibris at (888) 795-4274 or on the web at http://www.Xlibris.com.
Her books can also be ordered and purchased in any bookstores, such as Amazon.com or Barnes and Noble