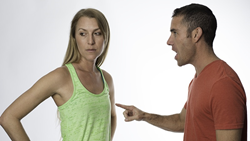 Improperly expressed anger accelerates conflict and can produce difficulties with family, friends, co-workers, neighbors and colleagues.
West Palm Beach, FL (PRWEB) March 08, 2016
Rosalind Sedacca, Certified Life Coach and Divorce & Parenting Coach, has partnered with Amy Sherman, Licensed Mental Health Counselor and Certified Life Coach, for the launch of their new online program: Anger Management To Cope With Life Challenges. The new Course can be taken at one's own pace and time-frame to get the most value from the material.
This 8-hour course provides signs to watch for in our personal activity, "red flag" warnings about problem behavior worth our attention, and a variety of tools and strategies for reducing conflict and taking control of our feelings. It was designed to help individuals find healthier ways of expressing anger, frustration and other difficult feelings which will make for more peaceful and rewarding life experiences.
"While anger is a natural emotion, when faced with a challenging situation, it can also create the most destructive consequences," says Sedacca who is the Founder of the Child-Centered Divorce Network and co-host of The Divorce View Talk Show & Podcast. "Improperly expressed anger accelerates conflict and can produce difficulties with family, friends, co-workers, neighbors and colleagues. Left uncontrolled, it often results in encounters with law enforcement and the judicial system."
"We all get angry and feel anger when "triggered." However, we always have choices regarding how we act upon those feelings," adds Sherman, a practicing psychotherapist and Founder of the Baby Boomers Network.. "Acting before thinking can lead to mismanaged anger and heightened conflict. Once you have reacted to anger, you have allowed your feelings to control you. Too often this leads to actions and behaviors you never would have taken if you were making wiser, more rational choices. Knowing how to manage anger can help you set limits and determine comfortable boundaries in your relationships and interactions with others, including strangers."
This course is especially valuable for those who:

Lose their temper easily and quickly
Small things set them off, like getting stuck in traffic, children running around the house or spilling their morning coffee. They have a low tolerance for frustration and find It difficult to take things in stride.
Show inconsistent behavior that is intimidating to others
Their behavior is so unpredictable that one minute they may be feeling good and the next, they become explosive.
Create fear in family and friends.
People "walk on egg shells" around them. Family and friends avoid giving them bad news for fear of their reaction.
Have hurt people close to them because of their anger
They have lost friends, family or perhaps even their job. People distance themselves from being close to them.
Have tried to control their propensity toward anger and conflict, but failed
They are not able to control how they react to things, even when they may have tried several different approaches.
Find themselves explaining or justifying their aggressive behavior to others
They often blame others for enticing or provoking them to express anger.
Find it difficult to express themelves without cursing, swearing and blaming
Their communication with others is often offensive and vulgar. They are defensive and feel the problem "isn't me, it's you!"
Become destructive due to their anger
They frequently break things or become violent towards others. They may pound on the table, punch a door or throw things to make a point. They may have hit, bit, pushed or forcibly held their partner or child because of rage.
Find their anger spirals out of control
Once angry, it is difficult for them to de-escalate. It seems to take over and takes a while before they can settle down again.
Have difficulties with authority figures
They don't like people telling them what to do and often get into confrontations. Sometimes they purposefully refuse to complete assignments or follow directions, as a sign of rebellion.
It is difficult for them to have a conversation without getting angry. They don't like it when others disagree with them which makes them feel inadequate.
Display intense or threatening body language
This can readily be seen in their clenched fists, tightened jaw and glaring stare.
Anyone who can relate to any of the above situations will benefit from the Anger Management To Cope With Life Challenges program. It covers a broad range of life issues, including intimate, family, friend, neighbor and employment relationships.
Sedacca and Sherman have also created a special program on Anger Management For Co-Parents, an 8-hour or 12-hour course with quizzes, videos, exercises and final exam for court-mandated or voluntary participants.
For more information on both anger management courses, visit http://www.angerconflictprograms.com.