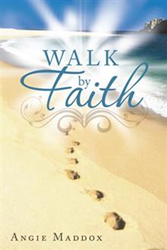 A story of love, challenges and the power of faith.
FLORENCE, Ky. (PRWEB) March 19, 2014
Although Angie Maddox and her husband, Donnie, started out happily married, things became more difficult when they decided it was time for a child. Dealing with issues of infertility left Angie questioning her place in the world and asking God for guidance. "Walk by Faith" (published by CrossBooks) tells Angie Maddox's story of love, challenges and the power of faith.
Angie Maddox had always been a strong believer in God, but often found herself questioning where she fit into God's plans. Being unable to have children furthered this, causing her to question if she was somehow undeserving.
An excerpt from "Walk by Faith":
"I would watch as women all around me could seemingly look at their husbands and get pregnant. I watched as teenagers could accidentally get pregnant. Women who abuse drugs could get pregnant. Complete drunks could have kids. Not me, however. I figured God must really dislike me and must really think I would make a terrible mother."
Filled with many trials but even more triumphs, "Walk by Faith" serves not only as Angie Maddox's memoir, but her testament to the power of faith. She hopes her triumphs over the difficulties of infertility, adoption and special needs children will inspire readers as she believes her life was ultimately blessed by God.
"Walk by Faith"
By Angie Maddox
Hardcover | 6 x 9 in | 162 pages | ISBN 9781462734115
Softcover | 6 x 9 in | 162 pages | ISBN 9781462734092
E-Book | ISBN 9781462734108
Available at Amazon and Barnes & Noble
About the Author
Angie Maddox has been a Christian for more than 25 years and loves sharing her faith with the people around her. She lives in Florence, Ky., with her husband, Donnie, and their two children. "Walk by Faith" is her first book.