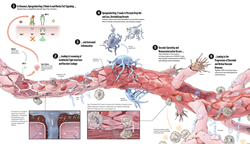 Unstable blood vessels leading to fluid leak is a major cause of vision loss," said Dr. William Li. "Blood vessels have to be stable for their proper function in the eye.
CAMBRIDGE, Mass. (PRWEB) March 07, 2022
The Angiogenesis Foundation announced today a new webinar series on Vascular Stabilization in Retina Health and Disease. The webinar describes the importance of vascular stabilization for blood vessel health in the eye and throughout the body.
"Unstable blood vessels leading to fluid leak is a major cause of vision loss," said Dr. William Li, President and Medical Director of the non-profit Angiogenesis Foundation. "Blood vessels have to be stable for their proper function in the eye."
The webinar series features three experts in ophthalmology, Dr. Charles Wykoff, of Retina Consultants of Texas in Houston, Texas; Dr. David Eichenbaum, of Retina Vitreous Associates in St. Petersburg, Florida; and Dr. Ramin Tadayoni, of University of Paris in France. They describe the latest findings for a system called Angiopoietin/Tie2, which helps to maintain stable, healthy blood vessels. In blinding disorders such as neovascular Age-Related Macular Degeneration (AMD) and Diabetic Macular Edema (DME), there is evidence for vascular instability due to this system being disrupted. The webinar also features a distinguished panel including Dr. Caroline Baumal of New England Eye Center in Boston, Massachusetts; Dr. Karl Csaky, of Retina Foundation of the Southwest in Dallas, Texas; and Dr. William Li, of the Angiogenesis Foundation in Cambridge, Massachusetts. The webinar is available for viewing at scienceofang2.org.
"We are launching this program now because March is "Save Your Vision" month," says Dr. Li, "We encourage everyone over the age of 60 to see their eye doctor and get a dilated eye exam."
About Wet Age-Related Macular Degeneration:
Age-related macular degeneration (AMD) is a condition that affects the macula, the part of the eye that provides sharp, central vision needed for activities like reading, and is a leading cause of blindness for people aged 60 and over in the United States. Wet, or neovascular, AMD is an advanced form of the disease that can cause rapid and severe vision loss. Approximately 11 million people in the United States have some form of AMD, and of those, about 1.1 million have wet AMD.
Wet AMD is caused by growth of abnormal blood vessels, also referred to as choroidal neovascularization (CNV), into the macula. These vessels leak fluid and blood and cause scar tissue that destroys the central retina. This process results in a deterioration of sight over a period of months to years.
About Diabetic Macular Edema:
Affecting approximately 750,000 people in the U.S., diabetic macular edema (DME) is a vision-threatening retinal condition associated with blindness and decreased quality of life when left untreated. DME occurs when damaged blood vessels in the retina leak into and cause swelling in the macula – the central area of the retina responsible for the sharp vision needed for reading and driving. The number of people with DME is expected to grow as the prevalence of diabetes increases.
This webinar was developed in collaboration with Genentech, a Member of the Roche Group.
###
Established in 1994, the Angiogenesis Foundation's mission is to improve global health by advancing angiogenesis-based medicine, diet, and lifestyle. For more information or to support the Foundation's research and programs, visit angio.org.
MEDIA CONTACT:
Ashley Sandberg
Triple 7 Public Relations
347.735.6480 |
Email: ashley@triple7pr.com
http://www.triple7pr.com