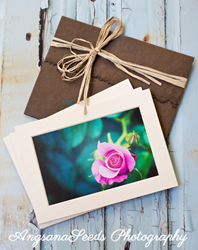 "Awakening" captures in miniature the essence and grace of the rose.
Los Angeles, California (PRWEB) July 07, 2015
AngsanaSeeds Photography (http://angsanaseedsphoto.com) will showcase its limited edition fine art print "Awakening," depicting an "Imagination" rose, to top media outlets at the 2015 Consumer Products Holiday All-Press Gifting Event, in partnership with The Artisan Group®. The event takes place July 8, 2015 in New York City.
Each The Artisan Group® gift bag will include a 4" x 6" (5" x 7" matted) limited edition fine art print "Awakening," thoughtfully packaged in a 100% recycled cotton fiber portrait case, secured with natural raffia twine. The gift bag will be presented to magazine, newspaper and online editors, top bloggers, and TV, radio and online producers attending the event. Past attendees have included Allure Magazine, People Magazine, The Wall Street Journal, the L.A. Times, the New York Times, Ladies Home Journal, GQ and USA Today, among other publications.
"Awakening" captures in miniature the essence and grace of the rose, as well as its delicacy and vibrance. "This fine art print is the perfect gift for rose lovers, gardening enthusiasts and romantics-at-heart," says Ivy Ho, founder and photographer at AngsanaSeeds Photography. "I'm excited to present it at this exclusive press/media gifting event." "Awakening" is available to purchase in a limited quantity of 10 at AngsanaSeeds Photography on Etsy and retails for $15.00.
Ivy describes her photography as a journey of discovery. Through her portraits of people, objects and street scenes, she captures fleeting moments in time, which she explores and excavates in the studio to reveal their essence. She says, "My objective is to share glimpses of the beauty and soul I experience every day in my photographic journeys."
AngsanaSeeds Photography has been mentioned in the L.A. Times and on Winnkstyle.com and has been published in Enchanting Photography and Eye on Fine Art Photography.
Ivy's "Earth Friendly Collection" has been gifted at GBK's Luxury Celebrity Gift Lounges for the Primetime Emmys and the Golden Globes and was selected for inclusion in an exclusive The Artisan Group gift bag honoring some of Hollywood's most eco-conscious celebrities, including Jessica Alba, Emma Watson, Edward Norton, Adrian Grenier, Will.i.a.m, Robert Redford, Leonardo DiCaprio, Drew Barrymore, Woody Harrelson, Jessica Chastain, Julianne Moore, Ted Danson, Meryl Streep, Cameron Diaz, John Mayer, Geena Davis, Barbara Streisand, Alicia Silverstone, Ian Somerhalder, Lisa Kudrow, Mark Ruffalo, Natalie Portman, Rachel McAdams and Neil Patrick Harris.
AngsanaSeeds Photography has achieved a coveted five-star customer satisfaction rating on Etsy. Said one pleased collector, "This is more breathtakingly beautiful… than I could ever have imagined."
To learn more about AngsanaSeeds Photography, contact Ivy Ho by email. Become a fan on Facebook (@AngsanaSeeds), Twitter, Instagram and Pinterest (@angsanaseeds).
For press inquiries regarding The Artisan Group, visit theartisangroup.org.
ABOUT ANGSANASEEDS PHOTOGRAPHY
AngsanaSeeds Photography (http://www.angsanaseedsphoto.com) is home to the work of fine art photographer Ivy Ho. AngsanaSeeds Photography features nature photography, cityscapes, still lifes and more, in color or black and white, for your home and office. Ivy's photos are offered as canvas, metal, and acrylic prints; greeting cards; iPhone, iPad and smart phone cases; laptop covers and throw pillow covers.
Ivy Ho is a proud member of The Artisan Group®.