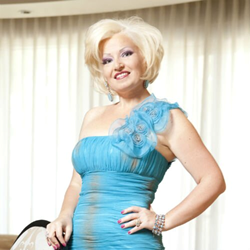 The more we talk, the more we open up, the sooner we'll come up with solutions, remedies, help, and hope
(PRWEB) July 17, 2014
Ania G. has been a long-time mentor for those living with endometreosis as she fought this health disorder herself and continues on this daily battle in her personal life. After trying every doctor, procedure, diet, and program, Ania finally found an answer to dealing with this debilitating condition while still managing to have an active social life. As a way of helping other "Endo Girls," Ania has created a blog, located at http://chicchicktrick.blogspot.com, with advice and comfort for those who are struggling with this disease. Ania's endometreosis community has only continued to grow and brought on a glaring need for practical information and compassionate understanding in a widespread format. Seeing the glaring need to take her coaching and mentoring to the next level has been the catalyst for Ania's new book, "Alone in the Crowd: Living Well With Endometreosis." Her book is due to be published on October 21, 2014 by Next Century Publishing.
Those living with endometreosis often find that the most devastating aspect is not the physical pain; it is the burden of feeling alone, particularly brought on by healthcare providers who do not have answers for their patient's pain. As part of her effort to help women with endometriosis, Ania aspires to have her book provide practical advice as well as help for women on their path to find solace in the fact that they are not alone, and not "crazy." Ania also implores readers to take comfort in knowing that sluggishness and long standing physical pain can be side effects of endometreosis. 'Alone in the Crowd' is Ania's message to women, hoping that they understand that they are not alone; women can overcome said adversities with a jolt of motivation, and it is possible to live well with this health condition. Says Ania, "The more we talk, the more we open up, the sooner we'll come up with solutions, remedies, help, and hope."
The book also explores the impact of diet, relationships, emotions, and other factors within this condition. With the help of "Alone in the Crowd," the author hopes to bring light to this disorder and provide advice and support for those who suffer from it.
About Ania G.:
Ania is an author, coach, counselor, and blogger who is a long-time endometriosis sufferer turned advocate. She now works to provide help to those who are dealing with this condition and its many side effects. Read more about her story at http://about.me/aniaphotoania.