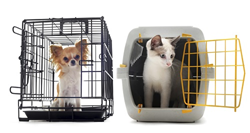 Partners For Pets has saved thousands of helpless animals over the last decade, and we're proud to be part of this charity drive.
Troy, IL (PRWEB) September 14, 2015
The Jessica Harrison Agency, a locally owned insurance firm with offices serving Madison County and the surrounding communities, is launching a combined charity program with Partners For Pets to save local dogs and cats from euthanizing shelters with minimal adoption success rates.
Partners For Pets is dedicated to rescuing healthy pets from animal control facilities, shelters, or "pounds" that have high kill and low adoption rates. PFP offers professional medical attention to rescued animals and then works to find them an approved home.
Since 2002, PFP has rescued more than 12,000 dogs and cats from local animal shelters and pounds that would have otherwise been euthanized. The existing PFP facility in Troy can only house 36 dogs and 12 cats, however PFP recently purchased a 5 acre property to expand. To make this property a functioning shelter for rescued animals, funds are required for renovations and improvements.
"I think it's wonderful that Partners For Pets is working so diligently to provide a safe and comfortable home for rescued animals," says Jessica Harrison-Wilkins, owner and manager of the Jessica Harrison Agency. "Partners For Pets has saved thousands of helpless animals over the last decade, and we're proud to be part of this charity drive."
The Jessica Harrison team is reaching out to community members, friends, and business associates throughout Madison County and beyond in an effort to advocate for safe, no-kill animal shelters and to raise funds that will be used to improve the new Partners For Pets rescue facility. Further efforts are underway to create an online social media portal that the team hopes will gather support from all across the state.
In addition to supporting Partners For Pets in their mission to rescue animals from high-kill low-adoption facilities, the Jessica Harrison Agency supports several other local charities as part of an ongoing community involvement campaign.
Readers who wish to assist the Jessica Harrison Agency in raising funds for the Partners For Pets rescue facility are encouraged to visit the Jessica Harrison Insurance website and make a direct contribution to the cause from this page: http://www.jessicaharrisonagency.com/Partners-for-Pets-The-Best-Things-in-Life-are-Rescued_16_community_cause. Readers who are interested in learning more about all the other local charities supported by the Jessica Harrison Agency are invited to bookmark the Community Causes section of their website, located here: http://www.jessicaharrisonagency.com/community-cause.
About Jessica Harrison Agency
Jessica Harrison was born and raised in Troy, IL and has been in the insurance agency since she graduated from college. She opened her first agency in 1998 in Troy, IL and later expanded her business by purchasing two other offices in O'Fallon and Granite City, IL. Her knowledge and understanding of the people in her community helps provide customers with an outstanding level of service. Jessica and her team look forward to helping families protect the things that are important - family, home, car and more. They can also help clients prepare a strategy to achieve their financial goals. To contact an expert at Jessica Harrison Agency, call (618) 667.8494.