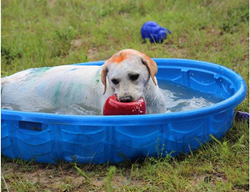 Chapel Hill, NC (PRWEB) April 18, 2014
Dogwood Veterinary Hospital & Pet Resort in Chapel Hill, N.C. is celebrating its second annual Paint and Play Doggie Daycare on April 17, just days before Easter. The Easter event is open to Dogwood's regular daycare guests.
Dogwood has a full day of fun planned for the Paint and Play Easter event as pets can be included in paw painting, splash time in the pool, photos and special giveaways that feature prizes and Easter goodies.
Dogwood Daycare is offered Monday through Friday for well socialized pets in need of supervision, socialization or just an outlet for excess energy. Dogwood Daycare includes two hours of well supervised group play sessions, held in our large outdoor play yards. We provide a safe environment for exploring and playing, offering comfortable accommodations for "nap time" in between play sessions. Dogwood's professional team of specialists and veterinarians are always on site to keep a close eye on each guest.
All dogs older than six months who wish to participate in Dogwood Daycare need to be spayed or neutered and fully vaccinated with up-to-date and negative heartworm test and fecal test.
Learn more about everything Dogwood has to offer by checking out their new video at https://www.youtube.com/watch?v=yIhlMoO_l08.
Dogwood Veterinary Hospital & Pet Resort is fully AAHA accredited and offers state-of-the-art medical and surgical care, as well as preventative services. The animal hospital and pet resort are open from 8 a.m. to 5 p.m. Monday through Friday. Weekend hours are available for pick up and drop off for the resort services. For more information, visit http://www.dogwoodvethospital.com or call 919-942-6330.
Dogwood Veterinary Hospital & Pet Resort is the fulfillment of a dream of two local veterinarians who wanted to bring a unique experience to the community by creating a full-service veterinary facility offering upscale, state-of-the-art medical, surgical, boarding and grooming services. The facility is 7,800 square feet on more than four acres, complete with indoor and outdoor play areas and trails. The owners of Dogwood Veterinary Hospital created it to serve pet owners and their pets. Come by anytime for a tour of Dogwood's facility or meet their staff. They take pride in showing off the care, service and pampering both pet owners and their pets deserve.