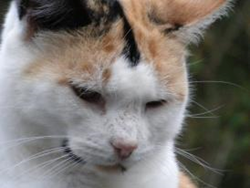 Damariscotta, ME (PRWEB) May 21, 2014
Recent studies suggest that both veterinarians and owners have been in a period of denial concerning the seriousness of cats vomiting more than a few times monthly. Damariscotta Veterinary Clinic is taking special precautions testing and treating chronic vomiting in cats in light of the new findings.
In the past, many thought that things like rapid food ingestion, too much food ingested at once, stomach sensitivity, hairballs, etc. were to blame. Some owners would say "he just vomits a lot" as thought it was normal for the cat.
Dr. Gary Norsworthy, of the Alamo Feline Health Center in San Antonio, Texas, and his team studied chronic vomiting in cats for a number of years using several different diagnostic approaches and came to some startling and disturbing conclusions. He and his team recently published the study in the Journal of the American Veterinary Medical Association in Nov. 2013. More information can be found at http://avmajournals.avma.org/doi/abs/10.2460/javma.243.10.1455?journalCode=javma.
The first important finding was that cats were not suffering from stomach disorders but rather from small bowel disease. Further work demonstrated that feline patients with chronic small bowel disease had symptoms of chronic vomiting, chronic diarrhea, weight loss or a combination of the three symptoms.
When the doctors screened 100 presumed normal cats that vomited (two to three times a month on a chronic basis), only one cat was found to have normal intestinal tissue. Forty nine percent had chronic enteritis (inflammation of the intestine) and the rest had various forms of intestinal cancer. This is not to suggest that 50 percent of cats who vomit have intestinal cancer, but certainly this is a very concerning study.
Medically, chronic or frequent vomiting boils down to two to three times per month or more, in spite of hairballs. Cats with small bowel disease have poor intestinal motility which leads to gastrointestinal discomfort and often poor digestion hence vomiting and sometimes diarrhea. Also, some cats experience pain which may account for some of the excessive belly grooming seen. This can of course lead to hairballs and skin disorders.
Damariscotta Veterinary Clinic takes chronic vomiting in cats very seriously. For cats with chronic vomiting, the clinic performs a complete baseline of blood tests and a urinalysis along with possible screening radiographs. If the tests prove uneventful, it is possible to try a hypoallergenic diet to rule out food sensitivities or to do a therapeutic trial of medication for effect. The hypoallergenic food should be purchased through a veterinarian or approved by a veterinarian. Each case must be handled on its own merit but the idea is not to brush off the vomiting patient; he may be sicker than he seems.
About the company:
Damariscotta Veterinary Clinic is a full-service veterinarian providing medical, surgical and dental care in a compassionate, caring manner with a personal touch. Damariscotta Veterinary Clinic is a staple in the mid-coast Maine area and has been proudly serving residents of Damariscotta for over 50 years. For more information, visit: http://www.myvetonline.com/damariscottavet/general-information.html.