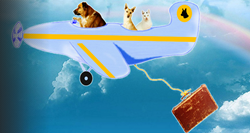 A large number of the Fort Stewart dogs will be trained as service and comfort dogs for veterans suffering from post-traumatic stress disorder (PTSD) and others with special needs.
New York, NY (PRWEB) September 23, 2013
Animal Aid USA founders Prince Lorenzo Borghese and Karen Talbot today announced "Operation Special Delivery Caravan and Flyway," an ambitious multi organization animal rescue event scheduled for October 5, 2013. The event will transport hundreds of rescue animals from numerous kill facilities in the Hinesville, Georgia area and transport them to receiving rescue groups in the northeastern U.S. and Florida.
As part of "Operation Special Delivery," a number of dogs from a high-kill shelter near the Fort Stewart military base will also be rescued by the Guardians of Rescue animal rescue group. Volunteer pilots from Pilots N Paws (PNP) will board dozens of general aviation planes, while additional volunteers from Animal Aid USA's home base in New Jersey will drive a caravan of vehicles from New Jersey to Georgia for the large-scale rescue effort -- the largest in Liberty County, GA history.
The PNP Subaru Outback, provided by its partner Subaru, will also join the caravan. PNP Partner Petmate will provide crates for the pilots to safely transport the animals. After their rescue, the Fort Stewart dogs will be trained to become service and comfort companions through the Guardians of Rescue's "Paws of War" program, which benefits veterans suffering from post-traumatic stress disorder and others with special needs.
Joining in the mass rescue effort will be Jodie Richers of Dogs on Death Row (DODR), offering support to the life-saving efforts of the M.O.M.S. Rescue organization out of New Jersey. M.O.M.S. volunteers will be responsible for the placement and transportation of the animals saved in the "Operation Special Delivery" caravan.
Ginny Millner and Rubye Reid of Atlanta, founders of Fix GA Pets, will be assisting in the official ribbon cutting ceremony of the "Coastal Community Veterinary Clinic" (CCVC). The CCVC, a 32-foot fully-equipped mobile spay/neuter clinic, was donated to M.O.M.S. Rescue by Humane Society of Atlantic County, N.J. This joint venture between M.O.M.S. Rescue and Liberty Humane Shelter will be under the medical direction of Dr. Rachel Peeples. It will be managed by Sandra Frye and Georgia Pontikakis.
In addition to the animals being relocated from Georgia, the ASPCA® (The American Society for the Prevention of Cruelty to Animals®) will simultaneously transport 50-80 dogs from a neighboring community in South Carolina as part of the same operation. The Beaufort County Animal Shelter and Hilton Head Humane Society each will prepare animals for a life-saving ride provided by Loving Friends Transport of Clearwater, Fla. and funded by the ASPCA. The animals will be delivered to various destination organizations in the Northeast where they will be available for adoption.
For a complete list of all groups who have come together to make this rescue the largest in the history of Liberty and Long counties, please visit "Operation Special Delivery" Flyaway and Caravan.
"We are so grateful that Animal Aid U.S.A., Petmate, Subaru and AOPA are supporting this monumental rescue event," says PNP founder and President Debi Boies. "It's because of their commitment that we will save the lives of hundreds of pets in one day."
The ground caravan will leave Wednesday, October 2, at 7 p.m. and will drive through the night to Liberty County. To sign up to join the caravan, please email operationspecialdelivery(at)gmail(dot)com.
For more information, please visit http://www.AnimalAidUSA.org, email borghesel(at)animalaidusa(dot)org or call (917) 570-0877.
About Animal Aid USA
Co-founded by Prince Lorenzo Borghese and Karen Talbot (M.O.M.S. Rescue Founder) in January 2012, Animal Aid USA is comprised of a group of volunteer animal lovers who drive more than 1,600 miles each month in order to relocate animals from high-kill shelters to receiving rescues and homes. In addition to finding homes for animals facing an uncertain future, Animal Aid USA raises money to fund spay and neuter programs in low income communities, and raise awareness of the legal cruelties happening daily in the U.S., including gas chamber euthanasia. In July 2012, Animal Aid USA raised awareness of the cruelty of gas chamber euthanasia through the Amazing Grace Caravan. This caravan also saved 144 shelter dogs. To date, Animal Aid USA volunteers have rescued more than 3,000 abandoned and homeless dogs. Borghese combines his animal advocacy commitments with his Royal Pet Club product promotions by utilizing his on-air appearances to raise awareness for animal rights causes. Royal Pet Club donates five percent of its profits, plus $2 for every new customer to Animal Aid USA.
To learn more about Animal Aid USA, visit AnimalAidUSA.org. To learn more about Royal Treatment, visit http://www.RoyalPetClub.com. To learn more about our partners in "Operation Special Delivery" visit: Pilots N Paws; Guardians of Rescue; Fix Georgia Pets; and Dogs on Death Row (DODR).