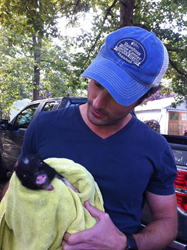 These animals will experience what a home feels like and what having a family feels like.
GREENVILLE, S.C. (PRWEB) October 09, 2014
Animal Aid USA founders Prince Lorenzo Borghese and Karen Talbot joined forces with Dogs On Death Row and Pilots N Paws last month to rescue 490 dogs and one little pig named Lily, making it the largest adoption rescue in South Carolina history.
The rescue animals, most collected from shelters throughout North Georgia and South Carolina, were transferred to the Greenville, S.C. Downtown Airport on Sept. 27th and whisked away to welcoming homes and preselected receiving no-kill shelters throughout the east coast of the U.S.
According to Borghese, many of these animals were saved from being euthanized, a fate that millions of abandoned and homeless pets meet every year. Rescue volunteers from Pilots 'N Paws deployed more 70 planes to help transport the animals rescued from various shelters, as well as 50 dogs that had been languishing at the Murray County Humane Society.
Additional ground caravans driven entirely by animal welfare volunteers from Animal Aid USA traveled from Georgia to the Greenville Downtown Airport and other locations across the U.S. to place the animals in awaiting forever homes for those who have been chosen for adoption. The remaining rescues are heading to foster homes until forever homes can be secured. Murray County Humane Society Director Angela Mick helped Borghese and Talbot oversee the ambitious rescue mission.
"This is life or death for these little guys," Mick says. "We keep ours fed and cared for, but the Humane Society is not a home. It means the world to us that they're going to get the homes they deserve."
Without the help of Animal Aid USA, Pilots 'N Paws, Dogs on Death Row and the countless volunteers who are committed to animal rescues, Mick says most of them just wouldn't be adopted locally, and end up living at the Humane Society for the rest of their lives.
"Other cities have the resources and eager adoptive families, and most of these dogs already have an adoptive home lined up," she says. "These animals will experience what a home feels like and what having a family feels like."
The late September rescue was a first for the Murray County Humane Society, thanks to Animal Aid USA providing the opportunity. Mick says she hopes there will be more opportunities like it.
It's the first time the Murray County Humane Society has ever been given the opportunity to do something like this, and they hope it's not the last.
"I thought, oh this is going to be a once-in-a-lifetime opportunity," Mick says. "But through generous donations from other organizations and individual animal lovers, it looks like we can possibly make this a yearly event."
Pilots N Paws volunteer pilots donated their services, planes and all necessary equipment to carry their canine cargo off to better lives, and Animal Aid USA provided ground transportation consisting of two large transport vehicles, cargo vans and cars and organized the logistics for the historic rescue.
The historic event also created an opportunity to raise awareness of the cruelty caused by the use of gas chambers to euthanize dogs and cats in South Carolina.
"It can take more than 30 minutes for animals to die and vital organs can lose their function prior to brain death, making it an extremely painful and frightening and cruel process," says Talbot. "South Carolina is one of two east coast states (North Carolina being the other) that still euthanizes dogs and cats in gas chambers."
The event was attended by Grace, a hound mix who survived a Georgia gas chamber in 2006. Animal Aid USA displayed a gas chamber at the rescue site, and volunteers asked supporters to sign petitions. Since going public, Grace's story led to an official ban of gas chambers in the State of Georgia.
Animal Aid USA volunteers work 365 days per year to rescue animals in peril from exposure to environmental dangers, abuse, starvation or needless euthanasia. The group of volunteers saves an average of 150 dogs per month. They completed the largest rescue adoption caravan in Georgia state history in October of 2013 when 512 dogs were saved. South Carolina was the second state they now hold a record in. Borghese says that donations are needed to offset the costs of health certificates that must be gathered for each rescued animal, as well transportation costs and medical costs such as spaying, neutering and heartworm treatments. Additionally, volunteers need a constant supply of dog food, cat food, towels, linens, paper towels, cleaning supplies, bleach and other necessities.
"Most people aren't aware of all that is needed to maintain a rescue effort of this size," Borghese says. "All donations go directly to the rescue and well-being of the animals we save, and all manpower is provided by our rescue partners and volunteers. None of us get a salary. We do it simply because we love saving animals!"
For more information visit AnimalAidUSA.org, Email talbot(at)animalaidusa(dot)org or call 609-665-1224.
About Animal Aid USA:
Co-founded by Prince Lorenzo Borghese and Karen Talbot (M.O.M.S. Rescue Founder) in January 2012, Animal Aid USA is comprised of a group of volunteer animal lovers who drive more than 1,600 miles each month in order to relocate animals from high-kill shelters to receiving rescues and homes. In addition to finding homes for animals facing an uncertain future, Animal Aid USA raises money to fund spay and neuter programs in low income communities, and raise awareness of the legal cruelties happening daily in the U.S., including gas chamber euthanasia. In July 2012, Animal Aid USA raised awareness of the cruelty of gas chamber euthanasia through the Amazing Grace Caravan. This caravan also saved 184 shelter dogs. To date, Animal Aid USA volunteers have rescued more than 3,100 abandoned and homeless dogs.
Borghese combines his animal advocacy commitments with his Royal Treatment products which are available on the Royal Pet Club website. He utilizes his on-air appearances to raise awareness for animal rights causes. Royal Pet Club donates five percent of its profits, plus $2 for every new customer to Animal Aid USA to fund free spay and neuter programs in low-income areas. Pictures of altered dogs are then posted on Royal Pet Club's Royal Fix Club page.
To learn more about Animal Aid USA, visit http://www.AnimalAidUSA.org. To learn more about Royal Treatment, visit http://www.RoyalPetClub.com. To learn more about Prince Lorenzo Borghese, click here.
About Dogs on Death Row
Driven by a deep passion for animals, Jodie Richers founded Dogs on Death Row (DODR.org) in 2007. Having worked in the nonprofit arena for many years as director of One Child At A Time (an international aid and adoption organization) and as a board member for Children's Charities of America, Richers possesses a skill set ideal for leveraging dollars into the most efficient action possible to save the greatest number of dogs.
Richers is tireless in her efforts to rescue, rehabilitate, and find homes for unwanted dogs everywhere. She is also committed to educating the public about the inhumane nature of gassing and heart prick as a means of killing animals.
Although Richers is the heart of DODR, many people contribute their time, talent, and treasure to keep the organization going.
Dogs on Death Row organizers pride themselves on their fiscal responsibility, maintaining an overhead of less than 7.5 percent.
###