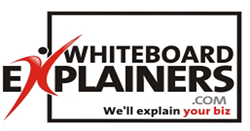 (PRWEB) April 24, 2014
More and more people are congregating towards WhiteboardExplainers.com as their explainer video provider brand of choice. Its affordability and cost-effectiveness has gone into another level, which should please small-to-medium businesses (SMBs) and startup companies that don't have much capital to go around in the first place. Even though WhiteboardExplainers.com was already cost-effective from the get go with its 100% money-back guarantee and infinite revisions deal, a client can gain even more value from their investment by availing of two instead of one video from the provider. As the headline reveals, if one buys two explainer videos from WhiteboardExplainers.com, he can get the second one at half-price or 50% off.
This special half-off price deal comes on top of the already aforementioned benefits of the 100% money-back guarantee if for some reason the customer isn't at all satisfied with the video he got as well as infinite revisions in case the customer merely wants to tweak an existing video to better suit his target audience or demographic. All the financial advantages are in the favor of the customer, not WhiteboardExplainers.com, because it's a provider that's simply quite confident in the quality of their product. There's no need for the organization to resort to done deals without giving money back to unsatisfied customers or providing videos without the option for revisions and whatnot. The company knows better than that.
This is because it has years and years of experience when it comes to delivering what the customer wants and needs. It has perfected the formula when it comes to animating stats and delivering information in a way that's engaging to customers and satisfies the clients availing of the videos in the first place. Objectively speaking, WhiteboardExplainers.com understands how to convert visitors into paying customers as well as web traffic into actual sales because it creates videos that don't only catch the attention of people, but also captures their imagination. Complex issues are explained as effectively and simply as possible using engaging visuals and down-to-earth language, whether it's a tutorial or a commercial that showcases by one brand is better than the other.
The Whiteboard Explainers Company is able to offer both affordability (the cheapest rates for every minute of footage delivered on its compact videos) and cost-effectiveness (more value for every dollar and cent spent on the video package, meaning every last piece of footage is worth every penny). If a client of WhiteboardExplainers.com isn't satisfied with the video he got such that even the infinite revisions clause isn't enough to fix it (although this is unlikely as the provider has sold thousands of its high-class videos to great effect), then there's no risk, because the 100% money-back guarantee is a no-questions-asked kind of deal that will return one's investment to him in case he isn't 100% satisfied or has misgivings of any kind.
An explainer video is equal parts tutorial and online video FAQ (Frequently Asked Questions) page. It explains things in a visual, graphical fashion, such that it's in many ways the video equivalent of an infographic. For those who don't know, an infographic is a picture that relays information in an exciting visual and easy-to-understand manner. An explainer video does the same with graphics and animation that's engaging and informative. It can make tutorials more effective and explanations on why a given product has a myriad of benefits for a company or individual exciting and entertaining. These short but educational videos are just what a client needs to truly interact with his consumer base.
Whiteboard Explainer videos can be used for a wide variety of applications, at that, for a handy tutorial on how to register to details regarding why a concierge or a tablet or a virtual office solution of a given company is the best thing for a given client to avail of. Ergo, for SMBs who wish to avail of the product, they could enjoy a 50% price cut on the second video they order on top of the standard 100% money-back guarantee and the infinite revisions clause available in all WhiteboardExplainers.com packages. Feel free to visit the site to learn more about this newest promotion.
Contact:
http://www.whiteboardexplainers.com
Tel: + 1 (310) 584-7293
Email: johan(at)whiteboardexplainers(dot)com