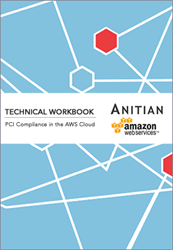 This is an extremely valuable new resource for companies that handle payment cards within AWS
Portland, OR (PRWEB) June 24, 2015
Anitian, the oldest and most trusted name in security intelligence, announced today it has partnered with Amazon to publish the definitive workbook on PCI compliance in the Amazon Web Services (AWS) cloud. This free workbook will help security and IT professionals to design, build, and maintain AWS hosted environments that meet the requirements of the PCI Data Security Standard (PCI DSS).
As the largest cloud hosting provider, companies globally trust AWS for infrastructure as a service (IaaS), hosting for critical business systems and applications, including e-commerce. Until now, building a PCI compliant AWS environment was a confusing tangle of intersecting requirements and capabilities. Anitian's workbook, developed hand-in-hand with the team at Amazon, not only clarifies how to build PCI compliant AWS clouds, but also how AWS services like Key Management (KMS) and Simple Directory can accelerate and simplify compliance with PCI requirements.
"This is an extremely valuable new resource for companies that handle payment cards within AWS," said Andrew Plato, President/CEO of Anitian. "It will empower IT people and PCI assessors to make the most of their AWS and PCI compliance investments. It also helps organizations address PCI compliance as a 'business-as-usual' capability rather than a one-time event."
Payment card security is a serious concern for businesses. In 2014, it is estimated that data breaches cost the global economy upwards of US $500B in losses. A staggering 47% of companies have experienced some type of breach. The PCI Data Security Standard has struggled to remain relevant amongst the flurry of breach activity.
"For better or worse, the PCI DSS is an effective set of controls," Plato said, "but only if they are implemented correctly. The challenge is that many businesses do not know how to make their AWS environment secure. Anitian is changing that. With this workbook and our advisory and testing services, Anitian is leading the way toward effective, reliable cloud security. We are fighting back against the cybercriminals with intelligent information security – it is the only way to do it."
The workbook is available right now from Amazon. It is free of charge. You can download it directly from the AWS Security Blog or from Anitian.
About Anitian
Founded in 1995, Anitian believes that good security makes the world a better place. To fulfill that vision, we are on a mission to build great security leaders. In this age of advanced persistent threats, data breaches, and aggressive hacking, high-performance businesses need a new kind of security and a new kind of IT leader. Anitian delivers a comprehensive set of security intelligence services that enlighten, protect, and empower organizations and business leaders to greatness.
About Amazon Web Services
Launched in 2006, Amazon Web Services offers a robust, fully featured technology infrastructure platform in the cloud comprised of a broad set of compute, storage, database, analytics, application, and deployment services from data center locations in the U.S., Australia, Brazil, China, Germany, Ireland, Japan, and Singapore. More than a million customers, including fast-growing startups, large enterprises, and government agencies across 190 countries, rely on AWS services to innovate quickly, lower IT costs and scale applications globally. To learn more about AWS, visit http://aws.amazon.com.
# # #
Media Contact:
Megan Lotzenhiser
megan.lotzenhiser(AT)anitian.com
503.726.2114