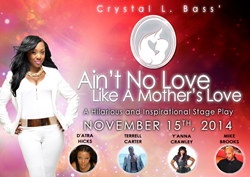 For one night only, Crystal L. Bass is bringing her hilarious and engaging stage play to audiences across the state of Maryland.
Baltimore, Maryland (PRWEB) August 01, 2014
Playwright and producer Crystal L. Bass has revamped her highly anticipated stage play "Ain't No Love Like A Mother's Love" for a special one time only show in Baltimore at the Patricia and Arthur Modell Performing Arts Center at the Lyric on Saturday, November 15th featuring an all-new, star studded cast. Ticket prices range from $55-$70 and are on sale now. They can be purchased at ticketmaster.com using the special code "LYRIC."
Bass assures this show about a Baltimore family's struggles will deliver on the laughs, the drama and powerhouse singing. The new cast includes veteran stage play diva D'Atra Hicks from Tyler Perry's "Laugh to Keep from Crying," crooner Terrell Carter from Think Like A Man Too and X-Factor fame, and winner of BET's Sundays Best Y'anna Crawley. The show also features comedian Mike Brooks from BETs Comic View, national recording artist Brave Williams and Baltimore's own Shannon Ramsey-Floyd selected from Bass' citywide talent search casting call.
The hilarious urban stage play chronicles the story of a family torn by the decision made by its matriarch to pursue romantic love over her children. Filled with interesting twists and unpredictable turns Bass promises an entertaining experience the entire family can appreciate. The play is an adaptation of Bass' top selling novel "Dark Clouds: A Charm City Family's Struggle" and loosely based on her experiences growing up in Baltimore.
For director Crystal L. Bass, bringing her production to the stage in her hometown is a dream come true. She shared, "I've come full-circle. As a teenager, I went to the Lyric Opera House to see my very first touring stage production and it changed my life. Now I get to bring my dreams to reality in the very place that made me believe in the arts."
Tickets for Ain't No Love Like A Mother's Love can be purchased at TicketMaster.com.
EVENT DETAILS:
STAGEPLAY: Ain't No Love Like A Mother's Love
DATE: November 15, 2014
SHOW TIME: 8:00pm
LOCATION:
Patricia and Arthur Modell Performing Arts Center at the Lyric
140 W Mount Royal Ave, Baltimore, MD 21201
TICKET PRICE: Range $55-$70
Purchase tickets from ticketmaster.com.
ABOUT AIN'T NO LOVE LIKE A MOTHER'S LOVE:
What's a mother of three to do when she has two fully-grown children and the youngest clamoring to become a woman? Doesn't she deserve happiness? Shouldn't she be able to get her groove back? In "Ain't No Love Like A Mother's Love" mom feels it's time to move on with her life but when she finds herself at the feet of a man with a dark side it spells disaster for the entire family. During this emotional rollercoaster ride we watch this Baltimore family fight to pull through some of life's harshest realities as family secrets are uncovered and rescue attempts fail. But all hope is not lost. We find that nothing can fill the void of a mother's love. In the midst of the drama this engaging stage production will have you laughing, crying and gasping at the twist and turns. One thing's for sure, this inspirational story of redemption and forgiveness will leave theatergoers with an entirely new appreciation for family and the depths of a mother's love. Based on the original novel by Crystal L. Bass, "Dark Clouds: A Charm City Family's Struggle."
ABOUT PRODUCER AND DIRECTOR CRYSTAL L. BASS:
Producer and playwright, Crystal L. Bass is an American author, freelance writer, and motivational speaker with a track record of success. Throughout her career, this Baltimore native has used her platform to uncover and illuminate issues that are important to young women, to ultimately empower and strengthen them.
In 2010, Crystal L. Bass wrote and published her first critically acclaimed novel, "Dark Clouds: A Charm City Family's Struggle," and founded Crystal Clear Publications. The publishing house boasts a creative team of artists, editors, professors, and producers that work to assist her in transforming her works into published manuscripts, plays and films. After the release of her first-book, through her entertainment company Crystal L. Bass Entertainment Bass produced and toured nationally her hit stage play, "Ain't No Love Like A Mother's Love" (ANLLAML). While the play was touring she launched a campaign designed to help promote healthy parent-child relationships to help reduce the rate of abuse and molestation of children and cultivate high self-esteem and self worth of young girls called Precious GEMS.
Bass' life's work is rooted in the desire to raise awareness and inspire people to fulfill their true purpose. Her goal is to expand her publishing company and publish other talented writers who share her desire to inspire through their stories. Bass was honored and recognized by the Rainbow Push Coalition a Top Inspirational and Engaged Leaders of 2013.
For more information on Ain't No Love Like A Mother's Love please visit http://www.aintnolovelikeamotherslove.com.
For more information on Crystal L. Bass please visit http://www.crystallbass.com.
For sponsorship queries please email sponsor(at)crystallbass(dot)com.
Click here to view Crystal L. Bass' interview on FOX45 News Baltimore.