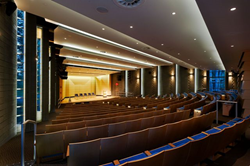 the acquisition of Digital Roads adds value to our service offerings. ANM clients will be on the receiving end of the industry-leading technologies they brings in the areas of audio-visual, access control and surveillance Raminder Mann, CEO ANM
Albuquerque, New Mexico; Denver, Colorado (PRWEB) June 06, 2016
Advanced Network Management (http://www.anm.com), headquartered in Albuquerque, NM and the largest IT provider in the region, continues its impressive and consistent momentum with the recent acquisition of the highly regarded Colorado-based Digital Roads, Inc. The acquisition will enable ANM to expand its core offerings and help serve its client base with innovative solutions around safety and security.
Digital Roads, Inc. is an 18-year-old firm that has earned a reputation for proven expertise in designing and deploying digital video applications and automated control systems. Their experience spans a wide range of environments including corporate, education, healthcare, government and entertainment. In the ANM tradition, Digital Roads, Inc. is a service-centric organization with a commitment to ongoing employee learning, and exceeding requirements for top industry certification.
"Without a doubt, the acquisition of Digital Roads, Inc. adds value to our service offerings," comments Raminder Mann, ANM's CEO. "ANM clients will be on the receiving end of the industry-leading technologies Digital Roads brings in the areas of audio-visual as well as access control and surveillance." Mann says it's a bonus to join forces with a firm that's like-minded in terms of its commitment to exceptional service and a 'customer-first' orientation.
Last year, ANM grew both its reputation and its visibility earning its Cisco Gold Certification and becoming Cisco's NM Partner of the Year. It is the only New Mexico-based firm to have secured this level of achievement. The company was named as a 2016 Top Workplace in Albuquerque http://www.topworkplaces.com/frontend.php/regional-list/company/abqjournal/anm as well as the #1 Medium Sized Business to work for in Denver http://www.bizjournals.com/denver/subscriber-only/2016/05/20/best-places-to-work-medium.html.
"We have a high level of anticipation around what we can bring to ANM," remarks Mary Hood, CEO of Digital Roads, Inc. "It is our hallmark to seek out solutions for clients, utilizing top products and forward-thinking strategies. Like ANM, we're about trailblazing for optimum results. Coming under the ANM umbrella just makes sense for us."
Over the next 12 months, Digital Roads, Inc., located in Golden, Colorado, will be Incorporated into ANM. "We look forward to integrating DRI's strengths, capabilities, and innovative solutions as we continue to serve the IT communities of Colorado, New Mexico, and Texas," Mann says.
About ANM
Headquartered in Albuquerque, New Mexico, ANM recently expanded its sales and engineering resources to branches in Las Cruces, as well as Denver and Colorado Springs. ANM recently achieved Cisco Gold Certification, solidifying its reputation as the region's leading IT supplier. http://anm.com/
About Digital Roads, Inc.
Digital Roads is a service-centered, video centric organization with a long track record of excellence, working in corporate, education, healthcare, government and entertainment environments. http://www.digitalroads.com/