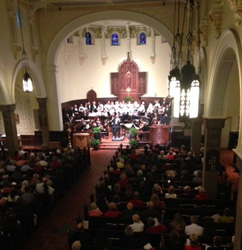 Annapolis, MD (PRWEB) March 31, 2014
The Annapolis Chorale concludes the 2013-2014 season with a musical journey to Russia and Eastern Europe. Under the direction of J. Ernest Green, the more than 150 members of the Annapolis Chorale will take over St. Anne's Church to fill the space with powerful and exotic music from the region's best composers. Called "The Spirit Soars," the finale concerts at St. Anne's Church in Annapolis are on April 4 (7:30 pm) and 5 (8 pm).
Among the pieces the Chorale will perform are Alexander Gretchaninov's Vespers, a work banned in Russia until the 1990s, and Henryk Gorecki's Totus tuus. The concerts will also feature works by Western composers influenced by the Eastern European traditions, including John Tavener's Song for Athene and Hymn to the Mother of God. Featured in the concert will be the women's ensemble, Cantori, and the Chamber Chorus. This exotic mixture of music will make the most of the acoustics of historic St. Anne's.
Students attend all performances free (those over 18 must provide a valid student ID). Adult tickets are $40/adults, $15/pre-sold students and are on sale now on the Live Arts Maryland website, or at the Maryland Hall Box Office at 410-280-5640. More information is also available at http://www.liveartsmaryland.org.
The Annapolis Chorale is presented by Live Arts Maryland, one of the region's largest and most active non-profit arts organizations dedicated to enhancing community life by performing and presenting high-quality music and providing music education for all ages. Live Arts Maryland is also home to the Annapolis Chorale Chamber Chorus, Annapolis Chamber Orchestra, Cantori, a women's ensemble, the Annapolis Youth Chorus and the St. Anne's Concert Series. The Annapolis Chorale is a resident company of Maryland Hall for the Creative Arts and is supported by the Maryland State Arts Council, the Arts Council of Anne Arundel County, the City of Annapolis and CapitalOne Bank.