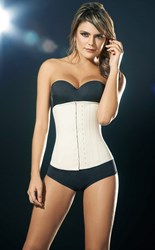 At peak times, orders are placed every 60 seconds at the LingerieMart.com website.
Atlanta, GA (PRWEB) January 15, 2014
In 2013, LingerieMart.com entered into an exclusive agreement with Ann Chery, the #1 best selling shapewear manufacturer, to distribute their products in the USA. Sales of Ann Chery Hour Glass Latex Waist Cincher Body Shaper style #'s AC2025 and AC2026 have become Lingerie Mart's #1 selling products three months in a row.
The number one seller, Style AC2025 Ann Chery Hour Glass Latex Waist Cincher Body Shaper is available in Nude or Black in sizes: XS-30, S-32, M-34, L-36, XL-38, 2X-40, and 3X-42. The corset girdle body shaper, with double hook-and-eye closure, controls and slims the waistline and abdomen providing a beautiful silhouette.
Exterior and interior layers are of 100% natural rubber and the lining contains 91% cotton and 9% spandex. The suggested retail ticket is $60.00. Product is shipped with all tags and is of 1st quality. This is an excellent value from Lingerie Mart. Visit http://www.LingerieMart.com for wholesale pricing.
Ann Chery, a 100% Colombian Company founded in 1982 to create exclusive garments, is dedicated to the beauty of the body under the post-surgical, weight-loss and body modeling classification to form a slim figure. Ann Chery is known for producing the highest quality shapewear and waist training corsets. Ann Chery waist training corsets and shapewear sales have gone viral as celebrities that wear them Instagram and Facebook their success stories to their fans. Lose inches instantly with the latex waist cinched, top quality Ann Chery waist training corset. Not only do they slim the mid section, the cincher uplifts the bust and helps improve posture.
Waist training corsets have become very popular among dieting women with goals of achieving sexy hourglass shapes. Making new year resolutions to lose inches off their waists, women wear these corsets for a few hours at first and work up to 8 - 12 hours a day training their waists to get that Victorian slim waist look. Lingerie Mart now keeps a huge inventory on hand to meet the increasing wholesale demand of the Colombian made waist training corsets and shapewear products. At peak times, orders are placed every 60 seconds at the LingerieMart.com website.
Not only is the Ann Chery shapewear selling fast in the U.S., retailers in the U.K. are placing wholesale orders weekly with re-orders steadily rising in size. Lingerie Mart expects sales of Ann Chery to increase substantially from the U.K. during 2014.
LingerieMart.com is the official and exclusive wholesale distributor for all of the #1 selling, made in Colombia, Ann Chery waist training corsets and shapewear in the USA. Lingeriemart.com is now the "Source" for All 45+ styles of #1 selling Ann Chery waist training corsets and shapewear offering super firm compression that smoothes the hips, thighs, abdomen, buttocks and waistline. Ideal for everyday use, postpartum, post-lipo and tummy tuck. Lingerie Mart projects to sell over 2 million USD of Ann Chery Products at wholesale during 2014.
Steven Rapp, CEO of Lingerie Mart, stated, "Lingerie Mart will meet the higher demand and continue to offer the very best wholesale prices, fastest shipping, and quickest turnaround time for Ann Chery waist training corsets and shapewear." He also said "Ann Chery waist training corsets and shapewear styles are especially popular with Lingerie Mart customers in the USA, UK, Canada, and Europe."
About LingerieMart.com:
Established in 1997, Lingerie Mart has sold wholesale and retail lingerie to tens of thousands of customers from all over the world. Their Atlanta warehouse is open to the general public every day, Monday - Saturday.
Lingerie Mart offers a complete source for wholesale lingerie. They supply all types of business venues including traditional lingerie stores and boutiques, retail stores, discount and flea market type outlets, home party businesses, eBayers, mass distributors and other various websites. Lingerie Mart is also a major fulfillment center for some of the world's largest online retailers.
Lingerie Mart appreciates customers and orders of all sizes. Whether the product needs are large or small, all orders and buyers from all countries are welcome. The professional, friendly and experienced customer service team is always ready to help, while the state-of-the-art shipping department processes orders in a quick and efficient manner. For more details, visit http://www.lingeriemart.com.