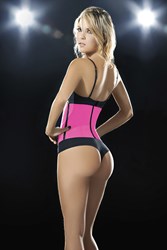 Ann Chery corsets are simply the best and perfect for getting that hourglass look!
Atlanta, Georgia (PRWEB) February 20, 2014
Wear the Workout Band to the gym or for a run outside and let it impact a healthy lifestyle routine. Wrapping the band around the body's midsection creates compression in the body core, stimulating thermal activity and ramping up perspiration. This process allows toxins and impurities to exit the skin, while mobilizing fat cells. Put simply, the band helps ensure that the workout works. The band itself is constructed from a latex core with a soft cotton exterior and interior lining. It sits at the waist, extending to the upper abdominals. Two columns of hook-and-eye closures allow sizing the garment to fit the body. Felix Boning anchors the cincher and prevents migration. Enthusiasts thinking about adding a supplement to their active lifestyle will love the power the Waist Training Corset and Workout Band by Ann Chery provide.
The number one seller, Style AC2026 Ann Chery Deportiva Sport Latex Waist Cincher Body Shaper is available in sizes: XS-30, S-32, M-34, L-36, XL-38, 2X-40, and 3X-42. Choose from three vibrant colors including Azul Blue, Neon Pink, and Neon Purple. The corset girdle body shaper, with double hook-and-eye closure, controls and slims the waistline and abdomen providing a beautiful silhouette.
Ann Chery sales more than tripled during January and February. Among the thousands of products Lingerie Mart offers, the Ann Chery Waist Training Corset and Workout Band are still the #1 selling items from the exclusive wholesale distributor. Visit http://www.LingerieMart.com for wholesale pricing.
LingerieMart.com is the official and exclusive wholesale distributor for all of the #1 selling, made in Colombia, Ann Chery waist training corsets and shapewear in the USA. Lingeriemart.com is now the "Source" for All 45+ styles of #1 selling Ann Chery waist training corsets and shapewear offering super firm compression that smoothes the hips, thighs, abdomen, buttocks and waistline. Ideal for everyday use, postpartum, post-lipo and tummy tuck.
Steven Rapp, CEO of Lingerie Mart, stated, "Lingerie Mart will meet the higher demand and continue to offer the very best wholesale prices, fastest shipping, and quickest turnaround time for Ann Chery waist training corsets, workout bands and shapewear." He also said "Our Ann Chery styles are especially popular with Lingerie Mart customers throughout the entire USA, UK, Canada, and Europe."
About LingerieMart.com:
Established in 1997, Lingerie Mart has sold wholesale and retail lingerie to tens of thousands of customers from all over the world. Their Atlanta warehouse is open to the general public every day, Monday - Saturday.
Lingerie Mart offers a complete source for wholesale lingerie. They supply all types of business venues including traditional lingerie stores and boutiques, retail stores, discount and flea market type outlets, home party businesses, EBayers, mass distributors and other various websites. Lingerie Mart is also a major fulfillment center for some of the world's largest online retailers.
Lingerie Mart appreciates customers and orders of all sizes. Whether the product needs are large or small, all orders and buyers from all countries are welcome. The professional, friendly and experienced customer service team is always ready to help, while the state-of-the-art shipping department processes orders in a quick and efficient manner. For more details, visit http://www.lingeriemart.com.