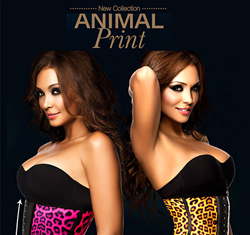 The sexy animal prints look so realistic that they almost seem to move!
Atlanta, GA (PRWEB) June 19, 2014
The largest #1 seller just got even better! They are available in purple and yellow leopard prints and in sizes XS-30, S-32, M-34, L-36, XL-38, 2X-40, 3X-42. The new collection comes in breathtaking 3D leopard print and the best part is that these new products, plus all Ann Chery, Verox, and Co'Coon shape wear, have arrived and are ready for immediate delivery. Stock up now as these inventory levels will not last for long.
Ann Chery is still the #1 Selling Waist Training style in the USA. It is a corset girdle body shaper, with double hook-and-eye closure that controls and slims the waistline and abdomen providing a beautiful silhouette. Compare to other corsets by feeling the difference of this very high quality Ann Chery corset. It is by far the very best.
The exterior layer is made of 100% natural latex rubber with a silky leopard print outer shell. The interior layer is of 100% natural latex rubber and is lined with 91% cotton and 9% spandex. The suggested retail ticket is $85.00 and is packaged with all the original tags. Visit the site at http://www.lingeriemart.com to see the everyday low wholesale prices for all Ann Chery products and available exclusively from Lingeriemart.
LingerieMart.com is the official and exclusive wholesale distributor for all of the #1 selling, made in Colombia, Ann Chery, Verox and Co'Coon waist training corsets and shapewear in the USA. Lingeriemart.com is now the "Source" for All 45+ styles of #1 selling Ann Chery and 15+ Verox and Co'Coon waist training corsets and shapewear. They offer super firm compression that smooths the hips, thighs, abdomen, buttocks and waistline. Ideal for everyday use, postpartum, post-lipo and tummy tuck.
Steven Rapp, CEO of Lingerie Mart, stated, "Lingerie Mart will meet the higher demands and continue to offer the very best wholesale prices, fastest shipping, and quickest turnaround time for Ann Chery, Verox and Co'Coon waist training corsets and shapewear." He also said, "Our workout training styles are especially popular with Lingerie Mart customers throughout the entire USA, UK, Canada, and Europe."
About LingerieMart.com:
Established in 1997, Lingerie Mart has sold wholesale and retail lingerie to tens of thousands of customers from all over the world. The Atlanta warehouse is open to the general public every day, Monday - Saturday.
Lingerie Mart offers a complete source for wholesale lingerie. They supply all types of business venues including traditional lingerie stores and boutiques, retail stores, discount and flea market type outlets, home party businesses, EBayers, m ass distributors and other various websites. Lingerie Mart is also a major fulfillment center for some of the world's largest online retailers.
Lingerie Mart appreciates customers and orders of all sizes. Whether the product needs are large or small, all orders and buyers from all countries are welcome. The professional, friendly and experienced customer service team is always ready to help, while the state-of-the-art shipping department processes orders in a quick and efficient manner. For more details, visit http://www.lingeriemart.com.