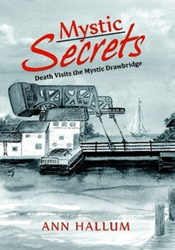 MYSTIC, Conn. (PRWEB) July 20, 2015
The Mystic River Bascule Bridge in Mystic, Connecticut, inspired author Ann Hallum to consider its role in a fictional murder mystery. This drawbridge becomes a pivotal location in Hallum's resulting novel, "Mystic Secrets: Death Visits the Mystic Drawbridge" (published by Lulu).
A man and a woman meet at a writers' conference at the University of Iowa. When they meet again in Mystic where he is living, they find themselves in a heated love affair. Their tryst is interrupted by a brutal murder discovered in the center of town at the historic drawbridge. As their own tenuous connections to the victim begin to surface, doubts between the two lovers sprout while the story moves between Mystic, Manhattan and Europe.
"This goes beyond a murder mystery and touches the lives of the two main characters with a romance bringing meaning into their already successful lives and allows them to conquer their own emotional problems," Hallum says.
An excerpt from "Mystic Secrets":
"There it was. A report on what they were calling the Mystic Drawbridge Murder. Leslie sat at quiet attention in an oversized club chair. It was rather sensational news for the area, being reported in an excited, almost lurid way with unbelieving intimations that such a death could take place in the seasonal quiet of the town, a tourist haven of historical significance."
"Mystic Secrets"
By Ann Hallum
Softcover | 5.83 x 8.26 in | 208 pages | ISBN 9781483431031
E-Book | 208 pages | ISBN 9781483431024
About the Author
Ann Hallum is now settled in Mystic, Connecticut, by way of Pennsylvania, the Bahamas, New York City, Québec, and Washington D.C. She pulls inspiration for her stories from her own career experiences in the worlds of fashion, textiles, interior design, and education.
Lulu empowers people of all ages to explore and express their interests, passions and expertise through books, photography and art. Since introducing self-publishing in 2002, Lulu has empowered creators in more than 225 countries and territories to produce nearly two million publications. Lulu Jr. allows children to become published authors, encouraging creativity, strengthening literacy and building self-esteem. Picture.com offers professional photography of collegiate and professional sports, memorable and historic events, fine art and home décor. For more information, please visit lulu.com.