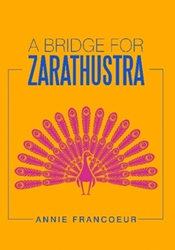 "I want readers to know that they can achieve their own awakening simply, in this lifetime, and enjoy it all here in their own physical bodies," Francoeur says.
SAGUENAY, Québec (PRWEB) January 30, 2015
For the past seven years, author Annie Francoeur has been a follower of the Master Zarathustra, a spiritual being she discovered thanks to the teachings she received at the Ohamah School, taught by Norma Delaney. Delaney is co-host of the radio show Breath of Life and cofounder of New Breath, a breath coaching community that uses integration to help its participants find relief from many stressors.
To bring her knowledge of and relationship with Zarathustra to others, Francoeur wrote her new book "A Bridge for Zarathustra" (published by Lulu) to provide an honest and lively testimonial of the ups and downs a human may face on his or her way to becoming what she calls a "soul-led human."
"I want readers to know that they can achieve their own awakening simply, in this lifetime, and enjoy it all here in their own physical bodies," Francoeur says. "There is a point of balance for everything if we give ourselves the gift of being in that balance first. I want people to learn that they can free themselves from addictive games such as anger, seduction, control, etc., and choose peace and inner joy instead."
"A Bridge for Zarathustra" narrates the author's process of receiving Zarathustra as a spiritual guide and provides the reader with Zarathustra's own life story of progression toward ultimate enlightenment.
"It has a dual purpose," Francoeur says of her book. "First, it shares the life of the spiritual Master Zarathustra. Then, while sharing about this, it explains about the integration of soul into the concrete, normal human life, which means inviting the higher realm of one's own essence, soul or consciousness into the life experience and all its dimensions. This enriches life beyond what we think is possible. The book encompasses two parts: a brief one about my experience, and the main one about Zarathustra's experience."
"A Bridge for Zarathustra"
By Annie Francoeur
Softcover | 5.83 x 8.26 in | 146 pages | ISBN 9781483421469
E-Book | 146 pages | ISBN 9781483421452
About the Author
Through the years, Annie Francoeur dedicated herself to her sign business and being a mother. Her commitment to finding her own voice caused her to tap into various schools of thought on spirituality and life itself. Francoeur now goes through daily life accompanied by the energies of Zarathustra, discovering, experiencing and sharing with others the benefits and infinite gifts of this presence. She lives in the beautiful area of Saguenay, Québec, with her husband, their three teenagers and their dog. Readers can learn more about Francoeur and her work at http://www.anniefrancoeur.com.
Lulu empowers people of all ages to explore and express their interests, passions and expertise through books, photography and art. Since introducing self-publishing in 2002, Lulu has empowered creators in more than 225 countries and territories to produce nearly two million publications. Lulu Jr. allows children to become published authors, encouraging creativity, strengthening literacy and building self-esteem. Picture.com offers professional photography of collegiate and professional sports, memorable and historic events, fine art and home décor. For more information, please visit http://www.lulu.com.