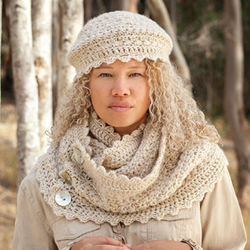 The Autumn Bliss Collection will appeal to a wide audience of knitters and crocheters of varying skill, tastes and aesthetics. The patterns are practical, on-trend and timeless and will become the easy go-to item in every yarn crafter's closet.
Berne, Indiana (PRWEB) September 22, 2016
Annie's Signature Designs has launched an upscale collection of 40+ on-trend knit and crochet patterns presented in visually stunning knit and crochet e-zine format Lookbooks for the passionate yarn crafter.
Lead Designer Lena Skvagerson draws inspiration from her Scandinavian roots and more than 25 years of experience in the European yarn markets. With an intuitive sense of color and stitch pattern, she collaborated with a group of prolific designers to create the Autumn Bliss Collection of hand knitting and crochet patterns.
The Collection patterns are presented in a cohesive, seasonal format, taking into account the yarn crafter's need for a coordinated group of patterns that fit within a pre-determined color story, making it easy for the knitter and crocheter to effortlessly mix and match pattern and yarn as they wish.
"Through my own experience and personal sense of style, I gather inspiration from all that I see around me. I intuitively know what will attract a wide audience of people with a variety of tastes and aesthetics. I can see how a collection of pieces fits into a woman's wardrobe without being fussy or complicated, but rather clean and minimal. The designs I envision are timeless, just like my own sense of style," says Skvagerson.
The selection of knit and crochet pattern designs include an eclectic mix of ponchos, scarves, hats, sweaters, cardigans, cowls and accessories mindfully paired with wool-blend yarns that result in gorgeous creations that knitters and crocheters will appreciate for their practical and timeless simplicity.
We invite you to experience an adventure of color, texture, light and earth. Visit Annie's Signature Designs to preview the current collection of knit and crochet patterns and watch the 360-view videos. Follow @anniessignaturedesigns on Instagram, and share using the hashtags #AnniesSignatureDesigns and #AnniesAutumnBlissCollection
About Annie's:
Annie's Publishing is part of the third-generation Muselman family business headquartered in
Berne, Ind., near Fort Wayne. Its products—including magazines, kits and supplies, books, online classes and
TV programming—are targeted to home and family interests, including crafts, nostalgia and home decor. The Muselman business began in 1925 with the founding of Economy Printing Concern in Berne. EP Graphics, as it is known today, is still owned by the Muselman family.