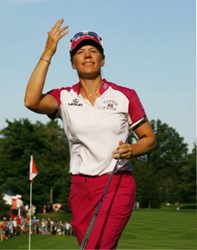 We're very excited to add Annika to our program and to learn about her current and future projects.
North Myrtle Beach, SC (PRWEB) December 06, 2013
For Immediate release: TheGolfDirector.com has secured an interview with hall of fame golfer, Annika Sorenstam for an upcoming episode of Hooked on Hickories With Mitch Laurance. Sorenstam is often regarded the greatest female player of our generation and possibly all-time. She essentially rewrote the record books for the LPGA and Ladies European Tour during her 15 year hall of fame career. She won numerous awards, a record $22 million dollars and 89 tour victories, 10 of which were Major Championships.
Host, Mitch Laurance will engage Annika on a variety of topics such as:
-Most recent achievement- 2013 PGA First Lady of Golf award
-Early life and career- Biggest golf/family influences/golf memories/favorite courses/players growing up...who did she idolize in the game?
-Favorite classic courses during her LPGA career
-Future- Annika Foundation/Annika Academy/WINE/Global Course Design/Family
-Golf Course Design business with eight projects at various stages of development around the world
Hooked On HIckories With Mitch Laurance connects the history, traditions, and champions of the game, then and now. Annika Sorenstam adds to an already impressive line up of show guests including Ben Wright, Peter Jacobsen, Charlie Rymer, Bradley Klein, Hollis Stacy, Dana Fry, Tony Jacklin, Matt Ginella, Todd Lewis, and many more.
TheGolfDirector.com is a golf information network offering streaming radio (TGD Radio) and webTV (TGD TV) programming, production, and distribution, online tee time reservations, and golf marketing services for a variety of golf industry clients. Running on the Zeus Digital Marketing backbone, TGD Media reaches 168 countries and territories, all 50 United States, and over 20,000 cities delivering millions of listening, viewing sessions to a targeted golf demographic.