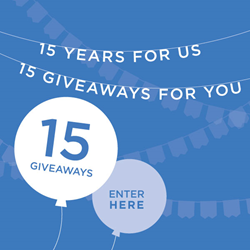 We're proud of where we're at and thankful to the countless vendors, employees and, of course, customers who helped us get here
Minneapolis, MN (PRWEB) September 17, 2015
Online lighting and home furnishings retailer Bellacor celebrates its 15 year anniversary this month, marking the occasion with an unprecedented sale and 15 special giveaways, plus a brand new responsive website design that makes it easy for consumers to shop from the device of their choice.
For Bellacor, a pioneer in the eCommerce retail space, the anniversary marks the culmination of a busy 12 months that also saw the company re-brand, move its headquarters to The North Loop and most recently introduce its new responsive design.
As the company grows, it remains true to its roots. Three "Bellacor Originals" are still a part of the current team, which now has 68 members in all. One of those originals, Josie Lowry, the Bellacor Professional manager, remembers hearing about traffic numbers and looking outside to the nearby interstate for confirmation.
"We didn't know what the term traffic meant," Lowry recalls with a laugh about the now familiar terminology for site visitors. "Traffic looked fine to me."
Today online traffic is at record numbers, and so are sales. In a competitive market, Bellacor remains at the forefront, thanks to its understanding of customers home decorating needs. Last year the company adopted "Home is a Life in Progress" as its brand signature going forward. A "Life in Progress" celebrates milestones and appreciates a history that's seen Bellacor grow from six original employees and nine total orders to the business it is today.
Five years ago, the company added furniture and décor to its extensive lighting assortment. In recent years, Bellacor Professional has showed strong growth, specializing in business-to-business interaction.
The site redesign is another step in the company's evolution. With more than 450,000 SKUs, Bellacor is one of the first retailers with such a large selection to feature a responsive site design. And there's more on the way, as Bellacor will add 80 new brands in the coming month – just in time for the holiday season.
From its sixth floor loft space, Bellacor eyes continued growth and sustainability – in everything from the energy-saving LED fixtures that dot its office to the long-term approach to customer relationships.
"We're proud of where we're at and thankful to the countless vendors, employees and, of course, customers who helped us get here," said Bellacor CEO Brenda Boehler. "But I think anniversaries are a time to look forward too. What's next? We are continually improving our customer experience and expanding our product assortment including the launch of our own exclusive line of lighting and home furnishings in 2016. We've established our name in this space, but we continue to search for new and better ways to make the online shopping experience even better."