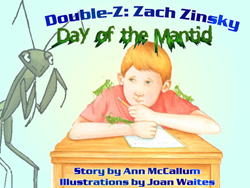 Ann McCallum's new children's book is a multimedia wonder.
(PRWEB) May 12, 2014
Author Ann McCallum's new work, Double Z: Day of the Mantid, is going to be much more than just another children's book. This multimedia sensation will encompass a book, a CD of original music, animations, and web-based interactive games and activities.
McCallum is teaming up with illustrator Joan Waites as well as composer, videographer, and producer Rich Staats to make this her most ambitious project to date. She has penned five previous children's books, one of which (Eat Your Science Homework: Recipes for Inquiring Minds) was recently named a Junior Library Guild choice.
"For Double Z: Day of the Mantid, our team of experts plans to deliver an exciting adventure of courage and chaos that you won't want to miss," said McCallum, who resides in Kensington, MD with her family.
The plot revolves around "Double Z" Zach Zinsky, a baseball buff who loves a good practical joke. When the family moves and he has to change schools, Zach's hopes are squashed like a bug when he meets his too-perfect new teacher, Ms. Paradise.
Is Ms. Paradise some kind of hybrid human, a praying mantid in teacher disguise? In a classic case of I never meant it to get this far, Zach pulls the prank of the year and what ensues is energetic, exhilarating … and horrible. Once the joke spirals out of control, only Zach can save the day.
McCallum estimated the initial budget for this project at $4,000 and she has raised nearly all of it through a Kickstarter campaign that can be viewed at http://www.kickstarter.com/projects/1903052807/double-z-day-of-the-mantid. With two weeks to go, she is working towards a minimum stretch goal of $8000.
Donations of any amount are welcome. If the goal is exceeded, McCallum has plans to implement an even more ambitious project. "We already have plans for a professionally produced audio CD of the novel as well as spin-off books and activities," she said.
Depending on their donation levels, contributors will receive copies of her previous books, autographed copies of Double Z, CDs, original artwork, and more.
"We are really excited about this project," McCallum said. "Every day we come up with new plans to take this idea and make it even more amazing. We all love books and feel passionately that everyone, especially kids, should have access to excellent stories."
For further information, visit http://www.kickstarter.com/projects/1903052807/double-z-day-of-the-mantid or McCallum's website, http://www.annmccallumbooks.com. She can be reached directly at annheather11(at)yahoo(dot)com.