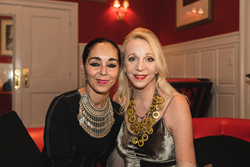 This year's 94 Nominees are the most significant and far-reaching exhibitions in the world, and we are equally delighted to announce our new award - Global Artists
NEW YORK (PRWEB) October 10, 2018
The Global Fine Art Awards (GFAA) program reveals today the 2018 Award Nominees following a live-streamed event yesterday in New York. Nominees, museum and gallery executives, students, educators and collectors were among the guests at the celebratory event which took place at the National Arts Club on Gramercy Park, hosted by the GFAA Advisory Board, Lead Sponsor Crowell & Moring LLP and other partners.
Judy Holm, GFAA Founder and President, states, "the GFAA program, now in its fifth year, is serving a critical role for the global art community, through the stewardship it provides."
Speakers in the afternoon salon featured Heather MacDonald, senior program officer at the Getty Foundation, who illuminated the development of Pacific Standard Time: LA/LA, a far-reaching and ambitious exploration of Latin American and Latino art in dialogue with Los Angeles. This collaborative initiative, comprised of over 70 different programs and exhibitions, was led by the Getty in partnership with cultural organizations across Southern California. Other speakers were international museum marketer Jennifer Francis from the Louvre Abu Dhabi; James McAndrew-former Head of the US Department of Homeland Security's International Art and Antiquity Theft Investigations Program; NY-based gallerists Eli Klein and Leila Heller, specializing in Chinese and Middle Eastern art respectively. To personally receive their Nominations, GFAA Nominees traveled from Europe, Washington D.C., Los Angeles and San Francisco, as well as many from NYC museums and top galleries. The event also featured a silent auction and live streaming.
The GFAA program conducts extensive year-round research of curated exhibitions and installations across the globe, designating awards for group and themed exhibitions, as well as awards for solo artist shows. In continuing the recognition of social issues addressed by many artists and institutions, and in addition to the two new awards launched last year – Global Planet and Global Humanity, GFAA premiers a new award category this year called Global Artists. This category distinguishes the lifetime body of work of the nominated artists.
Geographic, scale, ethnic and gender diversity are essential in the GFAA research and nominating process.

94 Nominees this year represent works in 6 continents, 31 countries and 49 cities – featuring many new artists, initiatives and countries- including Estonia, Hungary, Turkey and Chile.
22 of this year's Nominees (23%) are in or about the art and artists of Asia, Africa and the Middle Eastern.
15 of this year's Nominees (16%) feature Latin American artists, in 6 Latin American countries and in diaspora.
In one of the highest profile categories – Best Contemporary and Post-War Art, 30% of the Nominees are women.
Less than half of the GFAA Nominees exhibited in the top 100 art museums visited in the world (The Art Newspaper, April 2017), whereas the majority emanate from smaller institutions and other venues.
The culmination of the year-long process to discover the best curated art and design exhibitions will take place on Tuesday, March 12, 2019 with the celebration of all Nominees and the presentation of the Winners of the 2018 Global Fine Art Awards. The venue for the black-tie gala will be announced soon.
GFAA Judges will select 13 Winners – one in each of the following award categories: Contemporary and Post-War- solo artist; Contemporary and Post-War- group or theme; Impressionist and Modern- solo artist; Impressionist and Modern- group or theme; Renaissance, Baroque, Old Masters and Dynasties- solo artist; Renaissance, Baroque, Old Masters and Dynasties- group or theme; Ancient Art; Photography; Design; Fringe; Public Art, and the new awards that premiered last year – Global Planet and Global Humanity. The new award (Global Artists) is juried but will not designate a Winner. Youniversal, and YOU-2 are the two final awards, are given to the most popular nominees, and are selected by public voting on the GFAA website and social media.
Media, Arts, Educational and Cultural Collaborators
The Armory Show, Alserkal Avenue (Dubai), American Alliance of Museums (AAM), ArtTable, Association of Art Museum Directors (AAMD), De la Cruz Collection (Miami), DSL Collection (Paris), Edward Tyler Nahem Gallery, Family Office Elite magazine, Fine Art Connoisseur magazine, Fractured Atlas, Galerie Lelong & Co., Gladstone Gallery, Hauser & Wirth, Leighton House Museum, Leila Heller Gallery (New York and Dubai), Eli Klein Gallery, Mapme, Marlborough Gallery, Masterpiece Fair (London), National Arts Club, Onassis Foundation USA, Paddle8, Traveling Exhibits Network, Vastari, White Rabbit Collection (Sydney)
Corporate Sponsors- Lead Sponsor Crowell & Moring LLP
Ironhorse Vineyards, Copperfield Advisory, Eli Klein Gallery, K&L Gates LLP, Liberty International Underwriters - a member of Liberty Mutual Insurance, SRI Fine Art Services, Wiggin and Dana LLP
GFAA Judges
The 2018 GFAA Jury is comprised of these highly-esteemed art professionals:

Savita Apte, Art historian and lecturer specializing in Modern and Contemporary South Asian Art
Dr. James M. Bradburne, Director General of the Pinacoteca di Brera and the Biblioteca Braidense, Milan
Gina Costa, Art historian and curator, previously at the Metropolitan Museum of Art and Art Institute of Chicago
Dr. Joe Lin-Hill, Deputy Director of the Albright-Knox Art Gallery
Dean Phelus, American Alliance of Museum's Senior Director of Leadership Programs
GFAA Research and Nominating Committee
Research Chair Kimberly Lin– BA in Art History in modern and contemporary art from the UC Berkeley; Degree in fashion design from Fashion Institute of Design and Merchandising; Post War Contemporary Art program, Sotheby's London
Nominating Committee Chair Betsie Piussan– MBA from NYU; BA Stanford University, studied at l'Université de Paris and l'Ecole du Louvre, Design Certificate NY School of Interior Design
Peter Trippi– Editor-in-Chief, Fine Art Connoisseur magazine; GFAA Judge Emeritus
Salwa Mikdadi– Associate Professor of Art History, NYU Abu Dhabi
Patricia Lannes– Founder of Cultures and Literacies through Art for the 21st Century; Chair, Global Latino Network AAM
Renee Farina– Biennale di Firenze (Florence) International Selection Committee; Gallery owner; formerly of Christie's Masters, Modern and Contemporary Departments, NYC, former GFAA Research Committee Chair
GFAA is a sponsored project of Fractured Atlas, a non-profit arts service organization. Contributions for the charitable purpose of GFAA must be payable to "Fractured Atlas" only. All contributions are tax-deductible to the extent permitted by law. Fractured Atlas, a 501(c)(3) public charity, provides a fiscal sponsorship program to help arts organizations raise money from charitable sources.