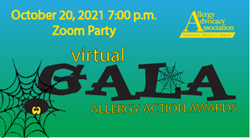 "As the Association mission says, with awareness, alertness, and action, we have changed the day to day lives of New Yorkers." - NYS Assembly Member Tom Abinanti (D-AD92)
ROCHESTER, N.Y. (PRWEB) October 12, 2021
Please join our annual awards and fundraising gala. The Halloween themed Zoom gala is free of charge to attend. As usual, Brenda Tremblay of WXXI-FM Classical 91.5 will be your guide for the evening. This year's award winners are doing wonderful work for everyone afflicted with life threatening allergies in New York State. We'll also be joined by the amazing Alan Hudson, Virtual Magician Extraordinaire! Alan will show us allergy safe ways to "trick" our way through the Halloween season…and all without any treats!
Through your contributions and sponsorship, we can better advance our program of awareness, alertness and action. Your generosity will change the lives of every day New Yorkers as they manage life threatening allergies.
This year the Dr. John J. Condemi Award will go to Dr. Kirsi Jarvinen-Seppo, Chief of Pediatric Allergy and Immunology at the University of Rochester Medical Center. Dr. Jarvinen-Seppo's clinical, research, and advocacy work on behalf of those with life-threatening allergies has made our community much safer. She has been instrumental in the development and success of our flagship program, Epi Near You New York, a New York State approved anaphylaxis emergency training program.
The John J. Condemi Award is given to medical professionals who have improved life, health and hope for individuals and families with life-threatening allergies through clinical treatment and new research.
The 2021 Ruth T. Cornell Award will be awarded to Maya Konoff, a college junior whose outstanding advocacy work has helped enact important legislation at the local, state and national level. Maya's personal advocacy is a powerful example for everyone at risk for anaphylaxis everywhere.
The Ruth T. Cornell Award is given to those who have had a significant impact on their community through sustained commitment to advocacy and education.
Register and/or donate here.
Find more information here.
Press Contact: Toni Taylor, tonitaylor@allergyadvocacyassociation.org, 646-382-8064
Sponsorship Contact: Patrick Morris, patrickmorris@allergyadvocacyassociation.org, 202-210-8440