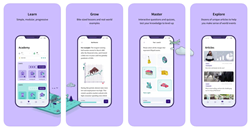 "MNYMSTRS is committed to making financial education accessible to anyone who seeks it." - Helyn Benard, CMO at MNYMSTRS
NEW YORK (PRWEB) October 07, 2021
MNYMSTRS, pronounced as "Money Masters," has launched its free financial education platform on the App Store, making their advanced beta available on all major platforms, including Android and web apps.
MNYMSTRS is designed to promote financial education through a progressive, interactive and bite-sized learning experience that also brings actionable, real-world understanding to the complexities of finance.
In less than three months since launching MNYMSTRS 1.0, the platform has grown to over 1,000 users and the App Store availability is expected to further accelerate growth.
With over 36% of US adults testing financially illiterate, MNYMSTRS Chief Executive Officer David Giron said that providing universal access to quality financial education is necessary to improve people's relationship with money both on a micro and macro scale.
"Our data shows that over 30% of adults, from Gen Z to Boomer generations, want to improve their financial literacy if provided access to resources," said Giron. "By making free financial education available to over one billion iPhone users in addition to Android and web app, MNYMSTRS has taken another step towards increasing financial inclusion and equality."
According to Chief Marketing Officer Helyn Benard, MNYMSTRS' purpose is to improve financial literacy globally by removing three key barriers:

Cost: The platform is free.
Time: With a modular design, users can learn and progress in as little as 10 minutes a day.
Access: MNYMSTRS is available across devices including web apps, Android and Apple
"Just because you don't come from money, don't have money or have never been taught about money, doesn't mean you can't learn to build your wealth," said Benard. "There are no pre-requisites for enrollment. The platform was designed for users of all levels of financial literacy. MNYMSTRS is committed to making financial education accessible to anyone who seeks it."
About MNYMSTRS:
MNYMSTRS has been created with a singular purpose - to improve financial literacy globally.
Their vision is to build a future where everyone can knowledgeably and confidently participate in the world of money. MNYMSTRS believes everyone should understand how money works so they can make money work better for them.