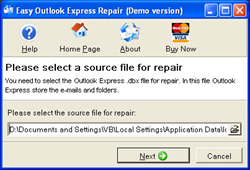 Easy Outlook Express Repair, one of the best DBX file recovery tools on the market.
Sacramento, CA (PRWEB) May 01, 2014
Recovery Toolbox announces the release of a completely renewed and largely improved version of Easy Outlook Express Repair, a specialized tool capable of recovering the contents of damaged DBX files. If it appears that an Outlook Express store file may be damaged, users can either find an external service, which is going to be quite expensive and not always fast, or perform the recovery on their own using an appropriate tool. http://www.mail-repair.com/mailbox-recovery.html
Easy Outlook Express Repair is exactly this kind of tool that offers everything necessary for quick, reliable and efficient recovery of emails from corrupted Outlook Express files.
The newly-released version of the program takes advantage of a brand-new file analysis and data recovery core. Rewritten from scratch, the new engine relies on a set of heuristic algorithms that ensure thorough scanning of damaged files and recovery of the maximum amount of data. http://www.mail-repair.com/faq.html
The interface of the program remained just as intuitive as it used to be – a multi-step recovery wizard with a few controls and a completely self-explanatory data extraction process. The program is intended for a very broad audience – from home users dealing with the consequences of an unexpected system crash to professional system administrators working with a large pool of corporate PC's. http://www.mail-repair.com/outlook-express-repair.html
The software has extremely modest system requirements and an ultra-compact installation file that is downloaded in seconds. In addition, the program requires no additional components or libraries, making it a great choice for novices looking for a simple approach to DBX file recovery when they realize that an Outlook Express store file may be damaged.
"We are happy to be offering one of the very best Outlook Express recovery tools available on today's market and are excited to release it improved version," commented Victor Bobrov, Head of Technology at Recovery Toolbox. "The new core really gave the program a serious performance boost while increasing its efficiency in the more serious data corruption cases. And, of course, our users still enjoy the amazingly simple and straightforward interface the program has always been known for."
The demo version of Easy Outlook Express Repair is available for download on the official website of Mail Repair. http://www.mail-repair.com/download.html